When Muruch's L.A. reviewer Laura covered The Black Angels concert at El Rey Theatre for us on May 15th, she took along her daughter, Julia. A freshman in college studying music history among other things, Julia has inherited her mother's enthusiasm for music as well as her writing talent. Julia's debut concert review for Muruch is below…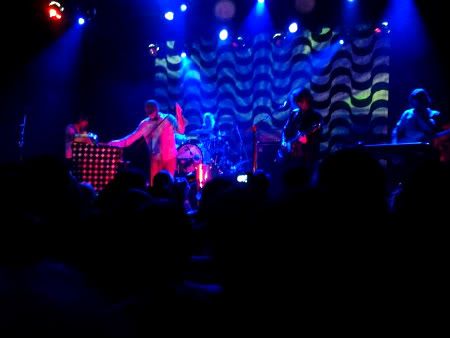 On Sunday May 15th, I was assaulted; Assaulted by a wave of sound so forceful, that it practically knocked me down. This assault was given by the "Psych-Rock" band The Black Angels. While labels in music are often extraneous, and more often complete nonsense, "Psych-Rock" is an accurate description of this band, whose influences happen to be some of the very bands who brought about the label, or at least helped to raise it (The Doors, The Velvet Underground, Pink Floyd, The Beatles, etc.)
The band played at The El Rey Theatre in Los Angeles, and somehow transformed it into a time machine, catapulting the crowd to the late 60's-early 70's drug induced haze of psychedelia. The opening band, Sleepy Sun, acted as a prelude to the madness, subtly readying you with a quieter intensity, lead singer Bret Constantino's voice lulling you into a reverie, which would be heightened, sharpened, and shattered by The Black Angels' harmonious cacophony of sound.
The Black Angels had a fabulously loud instrumentation, with each instrument being played ferociously, and each member playing multiple instruments throughout the duration of the show. The shining example of this ferocity was the drummer of The Black Angels, Stephanie Bailey. Stephanie is by far the best female drummer that I have ever seen, or heard, and could out-drum some of the best male drummers in the business. A compact package of raw power, she beat her drum kit into submission, slamming the sound right through you so you had to keep checking that there wasn't some beat-laden gaping hole in your chest. Though the tempo of each song flowed from the more upbeat ear-drum destroyers, to the hazier trance-inducers, Stephanie's drumming never lost an ounce of its teeth-rattling power. Though I could string together a slew of adjectives here, there is one word, bolded and capitalized, that fully encompasses the volume of this band: LOUD.
As I have repeated, possibly more times than necessary, The Black Angels bring to mind a throwback to psychedelic 70's rock, but not just with their music. Everything about this band screams it. The glazed look on each of their faces was mirrored by the faces of each and every person in the crowd, showing that they were as lost in their own music as the rest of us. The dizzying display of lights, and projected images onto the band and the backdrop, synchronized with the music, turned each song into a drug that swept you deeper into a daze, like some vivid, murky, colorful, woozy, vibrant, vaporous trip.
It was a welcome sensory overload, ears full of rapturous music, eyes bright with swirling luminescence, inhaling with ever breath the cloying smells of sweat and marijuana, every person crammed together, swaying as if one large amorphous being. They left you feeling lost, adrift in their music, tethered and grounded only by the rattling sensation that vibrated through the floors, walls, and ceiling from the beat. All in all, it was an intense experience that I am very glad to have witnessed.