That voice. That extraordinary, haunting voice belongs to 22-year old New Orleans singer-songwriter – not to mention guitarist, pianist and harmonica player – Alexis Marceaux. Set for release on August 23rd, her brilliant sophomore album, Orange Moon, features 25 of NOLA's top musicians from various genres and it is a strong contender for my favorite album of the year.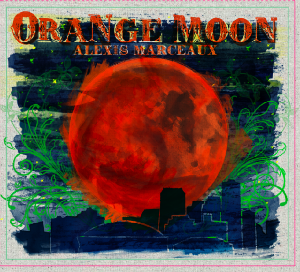 Alexis' powerful voice could easily hold its own against everyone from Florence + The Machine to Angelique Kidjo and her music is a brassed up brand of eerie indie-rock, melodic pop, delicate folk and the lightest hint of Zydeco – as if My Brightest Diamond played the Bayou.
From her first wail in the mesmeric, churning, chill-producing opener, "Leila and the Orange Moon," I knew I would love this album. The song is a worthy requiem to a departed friend's battle with cancer.
The string-accented "Stars" falls into a gentler, more exotic sway.
Aside from a few handclaps, "Brains" strips it all down to show off the full range of Alexis' gorgeous, multi-faceted voice – from its prettiest soprano height to its most robust depth.
The Sufjanesque indie-quirk whirl "Fox" is animalistic parable warning against stereotypes and superstitions.
The sweeping, cinematic finale, "Wishing Well," is sung from the heartbroken perspective of a lonely Louisiana pelican during the 2010 Deepwater Horizon oil spill in the Gulf of Mexico. With its defiant refrain, "the wind is at my back and you suckers will be lucky if I ever come back," the song is a soaring indie-rock anthem with a Cajun undertone courtesy of Russ Broussard's frottoir (Cajun washboard) and an angry backing choir of a dozen or so New Orleans musicians.
Alexis Marceaux – Leila and the Orange Moon (mp3 expired)*
*mp3 provided by & posted w/ permission of artist for limited time
Orange Moon – Preview by AlexisMarceaux
*SoundCloud Streams Uploaded by Alexis Marceaux
Buy @ Amazon
Alexis Marceaux Official Site
Alexis Marceaux MySpace