As I mentioned in my own review of Running from a Gamble, the new Company of Thieves album, the review had originally be assigned to another writer. That writer is our Mid-West photographer/reviewer, Jen "Coble" Hopper, and it turns out the internet devoured her review when she emailed it to me last month. So you get two reviews for the price of one. Coble's take on the album follows…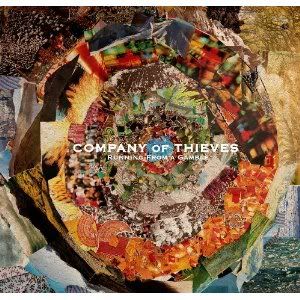 For this writer, Running on a Gamble sounds like Chicago: The energy, instrumentation, soulful vocals and images of the beautiful paired with the gritty. It also feels appropriately sophomoric for a band on the rise with the songs like "Death of Communication" and "Modern Waste," which examine scenes from the rise to recognition.
Company of Thieves shine with songs that still feel intimate despite full instrumentation and Genevieve Schatz' voice — which has also grown impressively. My only regret is that at points she is difficult to understand. This is unfortunate, because her lyrics deserve attention. The way that she slips in the occasional violent image really brings her stories to life.
Favorite tracks and lyrics are…
"Queen of Hearts:" "In my dreams I can make love to you without a fight / And sometimes I wonder if it's wrong or if it's right"
"Syrup:" "Your love syrup, so sweet, I feel dangerous indeed." The lyrics of this studio recording differ from the live version of the tune, offering "And right now in a scissor fight, I would let you stab me until I die" – a line which is far more telling than most in the song.
"After Thought: "I am not my problems / I am not my money's worth / Where I went to school / Order of my birth / And I am not the answer/ I am not the aftermath / Or picture of the past"
The band is posting acoustic versions of songs off the album on their website to lead up to the album release. So far, they are are amazing and give a taste of how truly fantastic they are live.
The band is also generously giving the album away for free to fans who print this coupon and take it to FYE.
Company of Thieves – Modern Waste (mp3)*
*mp3 hosted by & posted w/ permission of band's PR rep
Company of Thieves Official Site