2Cellos are twenty-four year old, Croatian classically trained cellists, Luka Sulic and Stjepan Hauser. The duo quickly rose to fame after a YouTube video of their dueling cello cover of Michael Jackson's "Smooth Criminal" was viewed by millions. 2Cellos soon signed to Sony Masterworks, were invited by Elton John to join his European tour and appeared on The Ellen DeGeneres show. That infamous "Smooth Criminal" performance is just one of the many pop and rock covers featured on 2Cello's new self-titled debut album, which also finds the two musicians transforming hits by U2, Muse, Nine Inch Nails, Guns 'N' Roses and Nirvana into cello instrumentals.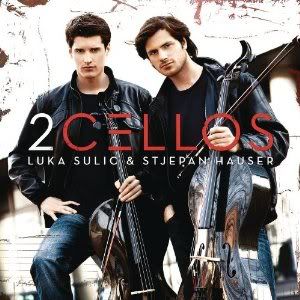 2Cellos is bookended with U2 covers – opening with an atmospheric, somewhat foreboding "Where The Streets Have No Name" and closing with a gentle "With or Without You." Say what you will about U2 as a band, their songs are undeniably distinctive and instantly recognizable. The two covers are among the highlights of this album.
Sulic and Hauser then explode from a soft, understated intro to Dick Dale's "Misirlou" (best known as the theme of Pulp Fiction
) into a frenzy of strings.
2Cello's aforementioned blistering rendition of Michael Jackson's "Smooth Criminal" reveals previously hidden intricacies in the song's melody.
Granted, you could probably play the title track from Muse's brilliant The Resistance (one of my Best of the Decade) on spoons and the song would still be magnificent. This classical rendering is so lovely, though, replacing the defiant excitement of the original with a feeling of wistful determination.
The covers of Kings of Leon's "Use Somebody," Sting's "Fragile" and Coldplay's "Viva La Vida" are lackluster without vocals, but the fault lies in the arrangements, not the instrumentation.
Judging from the liner note credits, 2Cello covered Johnny Cash's cover of "Hurt" here rather than the Nine Inch Nails original. Regardless, they do an excellent job of capturing the song's melancholic beauty.
Their version of of the Guns 'N' Roses hit "Welcome To The Jungle" is probably very impressive live, but the recording is a bit shrill and grating for my taste.
Their take on Nirvana's "Smells Like Teen Spirit" is much more successful and by far the stand out track on the album. 2Cello's exotic, moody interpretation stays true to the original's rock edge, but adds a classical depth and shows off the complexity and innovation of Nirvana's songwriting.
Sony + all covers means I'm not permitted to share an mp3 or even a stream from the album, but you can hear samples at the links below…
Buy @ Amazon