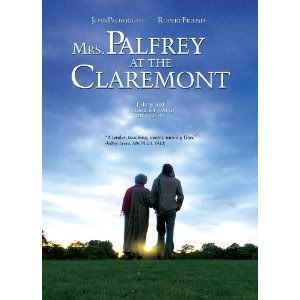 In Mrs. Palfrey at the Claremont, Joan Plowright plays the titular aging character who moves into the titular London retirement hotel, which is inhabited by a ragtag band of eccentric elderly ladies and gents.
Directed by Dan Ireland (also behind my favorite film, The Whole Wide World) and based on a novel
by Elizabeth Taylor (the novelist, not the actress), Mrs. Palfrey at the Claremont is such a simple, lovely, gracefully humorous little film. Sweet, but not overly sentimental.
Mrs. Palfrey's chance encounter with a poor, young writer named Ludo (Rupert Friend) leads to a case of mistaken identity amongst the hotel's nosy residents, who assume the mysterious young man is Mrs. Palfrey's grandson.
The two bond over simple pleasures such as poetry, a shared cup of tea, a mischievous delight in their deception at the hotel, and the unexpected and desperately needed companionship between two lonely strangers that overcomes the disparity in their ages and lifestyles.
What's so enthralling and endearing about the story is watching these two people who've been neglected by everyone else – she for her age, he for his poverty – draw out the hidden beauty in each other, accepting and loving the other for who they truly are as an individual.
Despite a brief reference to Harold & Maude
(and the feeling that fans of that cult film will enjoy this one), these two do not become literal lovers, but do forge a deep, dear connection…somewhere between romantic and familial.
Plowright and Friend have a natural, amiable chemistry. And Anna Massey is divine as the acerbic Mrs. Arbuthnot, the Claremont gang's unofficial matriarch.
In addition to brilliant acting (particularly the transcendent Joan Plowright), the film is filled with beautiful shots of London's cityscape and the lush scenery of the English countryside.
Buy DVD @ Amazon