Last week's selection, Les Miserables: Original Broadway Cast Recording
, is my favorite musical soundtrack. Well, the songs are anyway…apparently the version I had on cassette in the 1990s was not the original Broadway Cast. I preferred the vocals on whichever version I had, but this one is still pretty good. It would be difficult for any singer to ruin such substantial, timeless songs as "I Dreamed a Dream," "Red and Black," "A Heart Full of Love," "On My Own," "One Day More," "Empty Chairs at Empty Tables" and my personal favorite: "Do You Hear The People Sing?" (which is still impossible for me to listen to without singing along in a very deep and very bad pseudo-Broadway voice).
This week's classic album is…Rufus Wainwright: Poses
, which will be included in its entirety in the forthcoming 19-disc House of Rufus

boxset – set for release by Universal Music on July 20th..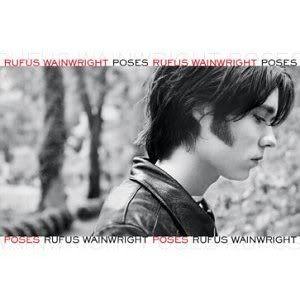 To recap the procedure here: At the beginning of each week, I'll post brief thoughts on the previous week's listening experience along with the coming week's classic album selection. Then sometime in the week that follows, we'll all take the time to listen to the album from beginning to end with no distractions. It can be as simple as just getting away from the computer to listen alone or you can make an event of it with candles, beverages and friends. Whatever format you play the album in or the manner in which you listen, just give the music your full and undivided attention.
Feel free to comment or email your opinions of our selections and recommendations for classic albums (from any decade, including this one).