My Brightest Diamond (a.k.a. Shara Worden) will release her new album, All Things Will Unwind, on October 18th. A "chamber pop" collaboration with chamber ensemble yMusic with lyrical explorations of everything from the complexity of the atom to class warfare to giving birth, the new album is full of quietly haunting beauty as well as Shara's usual bombastic grandeur.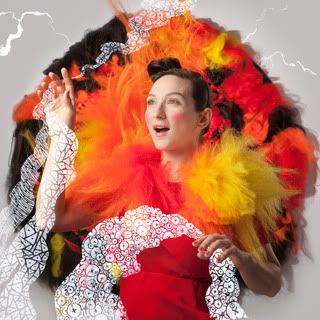 The stunning opener "We Added It Up" takes jaunty to a whole new level, not just in the jazzy song structure but in its plucky, whirling Ragtime orchestra instrumental flourishes. Think The Whitlam's cover of "If I Only Had a Brain
." That is, until the song's "love binds the world" Beach Boys finale of melodic, call and response vocals.
"Reaching Through to the Other Side" (which I first posted earlier this month) and "Be Brave" tread more familiar territory with their mingling of electronic beats, dramatic percussion and Shara's eccentric vocal purrs and wails.
"She Does Not Brave the World" is one of the most gorgeous, emotive songs ever sung, and "There's a Rat" plays like Kate Bush revamping an eerie Appalachian folk ballad.
There's a nice hint of Big Band swing in "High Low Middle," which examines Detroit's unemployment crisis.
The duet "Everything is in Line" has an exotic, intricate arrangement embellished with flute and strings. The song is much more gentle than My Brightest Diamond's previous works, but it is delicate, lovely and a magnificent display of Shara Worden's beautiful voice.
The pump organ pedal squeak – seemingly in imitation of a rocking cradle – may have seemed precious in concept for the new mother ode "I Have Never Loved Someone," but it's an irksome distraction from what is otherwise a pretty, Enya-esque ballad. But this is a minor complaint compared to the scope and majesty of the work of art that is All Things Unwind.
My Brightest Diamond – Reaching Through to the Other Side (mp3)*
*mp3 hosted on artist's website & link posted w/ permission of her PR rep
The album is not yet available for pre-order, but should be at the links below closer to the release date…
My Brightest Diamond – Official Site