Lupercalia is the new and fifth studio album by singer-songwriter and multi-instrumentalist Patrick Wolf. Wolf here marries the electro-pop of his recent releases with the eccentric troubadour style of his early albums, then takes things a step beyond with classical strings, big brass and a newfound lyrical optimism. Though not as eerily mesmeric as Wind in the Wires
or Lycanthropy
, Lupercalia is Wolf's most artistically mature work to date.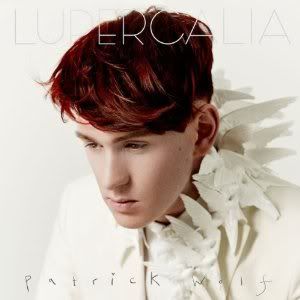 The stand out tracks "The City," which opens the album, and string-embellished "Together" are soaring, infectious pop tunes ready for radio…circa 1984 on radio stations that played bands like The Smiths and The Cure.
"Bermondsey Street" is a lovely cornucopia of acoustics, strings, piano, horns, programmed beats and handclaps.
"Armistice" has a fantastic retro Goth atmosphere akin to Ultravox' "Vienna," while a delicate pluck of strings waltzes through the otherwise serene "The Days."
Aside from a few faint blips and beeps in the background and one big reverberating repeated beat, the opening verse of "Slow Motion" puts the spotlight back on Patrick's voice where it belongs. The song builds and spreads out with lovely classical strings and exotic backing vocal flourishes, but its Patrick's haunting vocal that remains center stage throughout the duration of the song. The track is just waiting to be incorporated into a film score.
The buoyant disco-pop finale "The Falcons" picks up the tempo again without letting go of Wolf's signature dramatic edge.
I was not granted permission to share an mp3, but you can hear samples at the links below…
BUY @ AMAZON