Rufus Wainwright's 2001 album, Poses
, was last week's selection for Muruch's Classic Albums Appreciation Club. I enjoyed listening to it again so much, however, that I was compelled to write a proper album review. Though it was a favorite of mine when it was first released in 2001, I hadn't listened to Poses in several years. What a wonderful, unusual, consistently brilliant piece of art it is. I think it sounds even better today than it did when it was a newborn.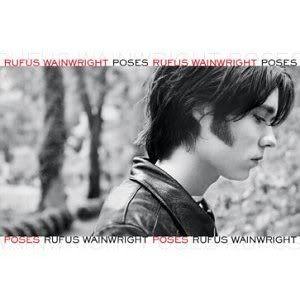 The opener of Poses, "Cigarattes & Chocolate Milk," is still a charmer with its lyrical list of various vices and irresistable indulgences all wrapped up in a jaunty piano tune.
Despite its title, "Greek Song" has more of an Oriental style with lush piano snaking through the intricate, exotic arrangement beneath Rufus' warm voice. The song was on nearly every mix CD I made in 2001 and remains my favorite on the album.
The title track dances in elegant circles, while the sensual downtempo beat of "Shadows" gently rises and falls with Rufus' graceful falsetto.
Catchy, quirky "California" rattles, clinks, bounces and purrs a perfect pop melody replete with backing "oohs."
Rufus' melodic, wistful "Grey Gardens" predated the renewed interest in the reclusive Beale family stirred up by Drew Barrymore's recent film. The song begins with a short audio clip from the 1975 documentary that inspired the film.
A gentle jazz pluck and rhythm floats through the slinky piano number "Rebel Prince," and the sinister edge of "Evil Angel" is softened by lovely classical horns and strings.
"In A Graveyard" is a pure, pretty piano ballad that probably earned Rufus all those soundtrack covers that followed.
Poses will be included in its entirety in the forthcoming 19-disc House of Rufus
boxset – set for release by Universal Music on July 20th. I hope to have my review of the boxset complete before the release date, but it's a deliciously, ridiculously large amount of music to make my way through. Until then, check out Poses if you haven't already.
Buy Poses @ Amazon
Pre-order House of Rufus @ Amazon
Rufus Wainwright Official Site