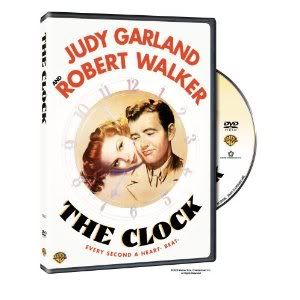 The Clock is a lesser known Judy Garland film about a couple of strangers caught up in a whirlwind romance in World War II-era New York.
Strangers on a Train
's Robert Walker stars as a WWII soldier named Joe on leave in NYC, who literally runs into secretary Alice (Garland) in Grand Central Station.
Lonely and in awe of the big city, Joe asks Alice first to spend the day and then the evening with him. After a romantic midnight walk in the park, the two unexpectedly find themselves accompanying a friendly milkman on his late night run.
A serious of strange encounters followed by a heart-wrenchinng separation in a subway station compel the two star crossed lovers to marry, but the spontaneous decision is a difficult task to accomplish thanks to oppressive bureaucracy and the ticking of the titular clock.
Despite a somewhat unresolved ending, this little film is often sweet, sometimes poignant and painful, and a tragically overlooked classic love story.
Buy DVD @ Amazon