Set for release August 30th, Sonya Cotton's third album, It is so, came to me unexpectedly in a handwritten, pastel green envelope and I don't recall ever having been so profoundly moved by an album. The lyrics read like classic poetry, full of beautiful, nature-evoking imagery and immense sorrow. The album's dedication revealed that this gorgeous, mournful masterpiece was born of the back-to-back deaths of Sonya's mother and a close friend. Sonya's broken heart is deeply embedded in the marrow of this spectacular album, as her personal loss intertwines with metaphors depicting the loss of natural habitat and sanctuary for animals in the wild. Such personal and universal themes coupled with lush, intricate arrangements must surely destine It is so to become a folk classic.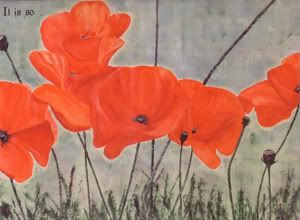 Remember and do pray for me, who's lost a precious friend
Your pleasures here can't always be, your joys must have an end
My dear companions snatched away, and I'm near left alone
In grief and sorrow here I'll stay, and like a dove I'll moan
"Man in a Tree with a Gun," which incorporates the traditional Appalachian folk song "Remember and Do Pray For Me," opens the album with a quiet, dirge-like verse then explodes into a chill-producing choir of voices – all driven by the deep, steady beat of a solitary drum.
"Frozen Hands," which originally appeared on Out of the Ocean, is a gentle, lovely ballad that puts Sonya's voice on almost perfect display.
The haunting, grief-stricken "Washington" and "It Wasn't Long Ago" seem most directly and intensely inspired by her mother's life and passing.
The anguished but exquisite "Regrets" is the song that will wring the tears from your eyes if you have ever lost someone you loved dearly but took for granted.
"Song For Eric" is a tribute to Sonya's friend, Eric Bayer, who was diagnosed with cancer just two months after her mother died from the same disease. Eric himself died just four months later at the young age of thirty-four. The song, which references Mary Oliver's poem "In Blackwater Woods," is an ethereal folk ballad worthy of Joni Mitchell.
Sonya's voice has never sounded so beautiful and her songwriting has never been as brilliant. Yet what a price she paid for such glory.
Sonya Cotton – Man in a Tree with a Gun (mp3 expired)*
*mp3 provided by & posted w/ permission of artist
*widget uploaded to Bandcamp by artist
It is so will be made available for donation rather than sale on August 30th with half of the proceeds benefitting The American Bird Conservancy, a non-profit animal welfare organization her mother once worked for.
Sonya Cotton's Official Site (Buy on Aug. 30th)
Buy @ Bandcamp