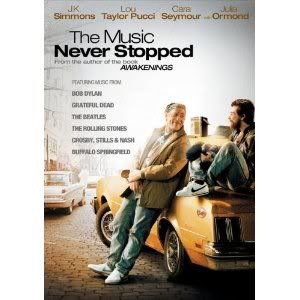 The Music Never Stopped is a wonderful indie film starring J.K. Simmons and Lou Taylor Pucci as a father and son who are brought together by music.
A brain tumor leaves Gabriel's (Lou Taylor Pucci) mind trapped in the 1960s. With the help of a music therapist (Julia Ormond), Gabriel's father (the amazing J.K. Simmons) learns to communicate with his son by listening to albums from that era.
Directed by Jim Kohlberg, based on a real life case study by Oliver Sacks and set to a soundtrack of The Grateful Dead, Bob Dylan, The Beatles and Buffalo Springfield, the film gracefully walks the fine line between comedy and drama.
A dire beginning soon blossoms into a poignant, heartwarming story about the precious brevity of time, the fragile bonds of family and the healing power of music.
BUY DVD @ AMAZON