Those who enjoyed my classic album posts may be happy to know that Smashing Pumpkins' first two albums, Gish and Siamese Dream, have been remastered and reissued as expanded editions featuring previously unreleased material. The new "Deluxe Edition" of Siamese Dream is three-disc box set containing the band's remastered 1993 sophomore album, a disc of eighteen demos and alternative mixes and a live performance DVD of the band's 1993 record release concert at The Metro.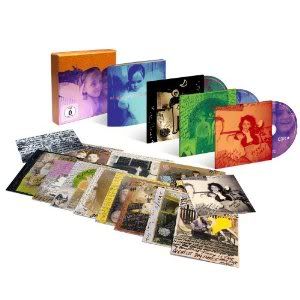 Honestly, I'm not too keen on the "Deluxe Edition" packaging. The metallic orange and purple box is pretty, but not functional. Each of the three discs is in a separate cardboard sleeve, but there's also the traditional jewel case liner notes floating around amidst a stack of postcards. I seem to be one of the few who still buys CDs and even I find the box bulky and the loose contents unnecessarily cluttered. Packaging aside, though, I have no complaints and this is one of the better "expanded" editions I've heard.
If any album deserves to be remastered and reissued, it's Smashing Pumpkins' Siamese Dream. Like Hole's Live Through This, Siamese Dream holds a great deal of high school nostalgia for me and is the definitive album of the early 1990s "Alternative" scene.
"Today" remains one of my favorite songs of all time and it's impossible to listen to it without remembering myself watching the video on MTV (yes, kids, MTV used to play music videos) with my flannel-clad friends in 1993. We didn't know who that weird guy in the dress (James Iha) was or why he was riding in an ice cream truck with that other weird guy in the white shirt (Billy Corgan), but we still loved the video, loved the song, loved the band and loved this album. And we still do.
"Disarm" was my other favorite track, the perfect song for any sullen teenager to sulk to. It remains, in my opinion, certainly one of Smashing Pumpkins best songs – if not their absolute best.
Both songs were inspired by what lead singer Billy Corgan calls a "suicidal depression" and written in the same day.
Corgan writes about the writing and recording process of the album, which literally tore the band apart for a time, and also provides track-by-track commentary in the liner notes of this deluxe edition.
"Spaceboy," a beautifully tragic tribute to Corgan's brother, is another standout. The rest of the album kind of runs together in a fuzzy, guitar-driven haze.
It's always difficult to objectively assess music that's so integrated into adolescent memories, but I think whether you were in high school then, now, or sometime in between, Siamese Dream is an album to get lost in.
The second disc of the Deluxe Edition contains eighteen previously unreleased tracks, many of which were demos of Siamese Dream. Such rare recordings collections are usually more interesting than listenable, but this one's actually pretty good and shows off the harder rock edge of the band's sound. I especially like the "Apartment Demo" version of "Luna," the instrumental mix of "Soma" and the "Acoustic" mixes of "Spaceboy" and "Disarm."
The third disc, a live DVD of the band's August 14, 1993 concert at The Metro, is a trip back to the Grunge era. I'm not usually fond of live recordings, but this concert DVD is awesome. Those in attendance certainly got their money's worth that night as the band played a tight set mostly comprised of "new" songs from Siamese Dream. Aside from the stray crowd surfer, the crowd pulses and moves as one entity to the music they so obviously adore. When the band launches into "Siva," the crowd being surges with excitement. Siamese Dream studio cellist Eric Remschneider joined Smashing Pumpkins on stage for the spectacular live performances of "Disarm" and "Spaceboy."
The reason I'm so cynical about modern 'indie-rock' bands is because bands like Smashing Pumpkins showed it was possible to do that nonchalant, melancholy rock sound in a way that was exciting and artistic. So if you like "indie-rock" and you've never heard Smashing Pumpkins, check out this set, or at least the remastered Siamese Dream album, which is also being reissued as a single disc.
You can watch the trailer in which Billy Corgan the reissues below…
Buy 3-Disc Set @ Amazon
Buy Siamese Dream @ Amazon
Smashing Pumpkins Official Site