I've been holding my Top Albums of 2011 post back for a few weeks awaiting the arrival of Florence + the Machine's new album, Ceremonials. It was a wise decision, for it will most certainly be on the list. While the British band's brilliant debut, Lungs, wrapped its bold drama and striking vocal acrobatics in catchy pop hooks and thunderous rock percussion, their aptly titled sophomore release has an almost Seraphic reverence to its bombast. And Florence Welch's unearthly wails remain unparalleled and mesmeric.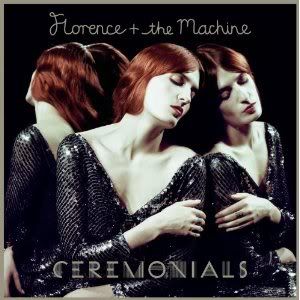 The music of Ceremonials reaches Cathedral heights even when the songs take a lyrical dive into oceanic depths.
Named for a Frida Kahlo painting, "What The Water Gave Me" sings the tale of Virginia Woolf's death by drowning. Yet the song also conjures up images in my mind of tormented and heartbroken Ophelia sinking beneath the water's surface in search of release.
"Never Let Me Go" is another standout, but the true stunner is the howling "No Light, No Light."
I was pleasantly shocked to see the liner notes of Ceremonials were penned by British writer Emma Forrest. If her name is unfamiliar to you, you obviously missed my Best Books of the Decade post last year. Forrest was the author of Namedropper among other great novels. I don't usually quote press releases or liner notes here, but Emma Forrest's words about Ceremonials are too eloquent and poetic to ignore:
I used to cry myself to sleep because I didn't write The Raven by Edgar Allan Poe, until my Mum pointed out that there were other people who also had not written The Raven by Edgar Allan Poe. Listening to Florence + the Machine's "Ceremonials," I kept reminding myself that there were other people who also hadn't written these songs, others who hadn't sung and arranged them, that I know many, many people who had not played the piano that sounds like church bells and percussion that evokes the ocean…That there might be words to describe un-nameable feelings and melodies to describe those words is how an album can really make us feel less alone in the world…"Ceremonials" offers us this: melancholia in its purest, most danceable form. – Emma Forrest
BUY @ AMAZON
Florence + the Machine Official Site