I'm pretty sure Julie Lee is a liar. The Nashville singer-songwriter claims her album, Julie Lee & The Baby-Daddies, won't be released until March 6th, but this gorgeous, classic folk song cycle sounds like it was recorded decades ago. Julie's band includes Lucinda Williams' guitarist, Kenny Vaughan, and Del McCoury Band member Mike Bub. Both men formerly employed Julie as their children's babysitter – hence the name The Baby-Daddies. The album also features guest performances by Tim O'Brien and Alison Krauss.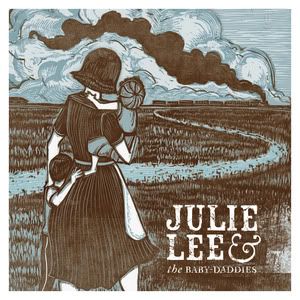 For the opener "Uphill," Julie transformed a Christina Rosetti poem into a jangly backwoods folk number.
My other favorite tracks are the fierce murder ballad "How He Lied," the haunting folk melody "Moonlight Train" and the bluesy "Lowborn Men."
The dusky, lapsteel-driven "Time Enough" is another highlight, as are Julie's vintage jazz rendition of Carly Simon's "Older Sister," the quiet hymnal "Unto The Hills" and the delicate "Little Ballerina."
Basically, the entire album is lovely and sure to be on my best of the year list.
Julie Lee & The Baby-Daddies – How He Lied
Uploaded w/ artist's permission by muruch
The album is not yet available for purchase, but should be at the links below closer to the release date…
BUY @ AMAZON
Julie Lee & The Baby Daddies Official Site