The Vespers' sophomore album, The Fourth Wall, will be released on April 3rd. Composed of sisters Callie and Phoebe Cryar and brothers Bruno and Taylor Jones, the Nashville quartet has been described by others as a "'Southern Folk Pop Family Band" and they call themselves "two sisters, two brothers, four friends, ten instruments, one fun little folk band." The songs on The Fourth Wall break the barrier between folk and pop and also genre-hop through blues, gospel and rock…all wrapped up in dulcet harmonies and strikingly beautiful instrumentation.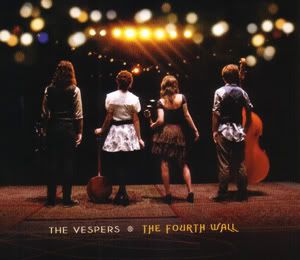 Momma says I can't be healed, Papa says I'm through
They say I can't use my eyes, never be good as new
Oh, but I'm better now
Why do you shake head no?
On first listen, the opener "Better Now" struck me as simply a beautiful folk song. It wasn't until I read the press release that I learned the lyrics were inspired by the Biblical account of the blind man healed by Jesus. However, this is no Gospel song. Rather, it examines the bittersweet relief and frustration felt by a man whose vision has been miraculously restored, but his friends and family don't believe his story. Lyrics aside, the melody and vocals are gorgeous and set upon a lush, multi-instrumental arrangement.
"Close My Eyes" gradually mingles electric guitar with banjo, culminating in a frenzied multi-instrumental finale worthy of Flogging Molly.
"Got No Friends" is a jaunty little song that is both lonesome and hopeful, while "Lawdy" grows from a haunting folk melody into a robust, bluesy thump.
"Jolly Robber" is a buoyant pop ditty that hints at traditional Jewish folk. "Grinnin' in Your Face" is another, fiercer blues track flush with howls, claps and stomps.
"Footprints in the Snow" is an ominous strummer perfect for a Western movie soundtrack, and "Winter" is a delicately melancholy and lovely finale for this entirely exquisite album.
The Vespers – Better Now (mp3 expired)*
*mp3 posted w/ permission of band's PR rep
You can download a free, legal EP with mp3s from this album via this post.
The album is not yet available for purchase, but should be at the links below closer to the release date…
Buy @ Amazon