Wilson Phillips are back with Dedicated, a tribute to The Mamas & Papas and The Beach Boys. Despite my fondness for all three bands (Wilson Phillips' self-titled debut
is tied to many a childhood memory), I expected this to be a disappointing, overtly sentimental album. Yet this homage to their respective parents – Beach Boy Brian Wilson is father of Carnie and Wendy Wilson and Chynna Phillips' parents were Mamas & Papas' John and Michelle Phillips – is actually quite good. Wilson Phillips may be better known for their reality show antics now than for their music, but their harmonies are as lovely as ever and very reminiscent of the two bands who spawned them. Dedicated is a pleasant, melodic and fun soundtrack for summer.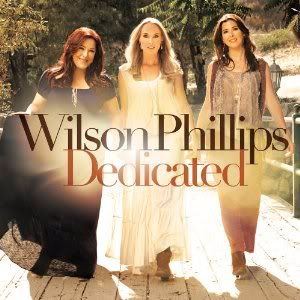 Highlights on the album include the uptempo, true-to-original covers of "California Dreamin'," "Wouldn't It Be Nice," "Don't Worry Baby" and "Monday Monday."
Other favorites are the pretty ballads "Dedicated To The One I Love" (featuring Cass Elliot's daughter, Owen) and "God Only Knows" as well as the mellow Mamas & Papas song "Twelve-Thirty."
The only tracks I find a bit irksome are "I Can Hear Music" and "Fun, Fun, Fun," but I feel the same about the original songs.
The a capella finale "Good Vibrations" is another standout. The use of multi-layered vocal hums as instrumentation reminds me of a capella groups like Sonos.
Overall, Dedicated is a sunny, summery, very catchy and surprisingly well orchestrated collection of classic pop covers.
I wasn't granted permission to share an mp3, but you can stream the entire album at AOL.
BUY @ AMAZON