Guest Post By: Brendan
Brandi Carlile's fourth studio release, Bear Creek, will be released on June 5th. As an enthusiastic fan of Brandi's music, I was eager to hear her new album and subsequently disappointed that it fails to live up to her past glory. Brandi wanted to get in touch with her country roots on Bear Creek, and that may be why I don't connect with it as much as her previous work. Brandi has such an extraordinary voice, it seems wasted on songs that would present no challenge to a weaker female country singer. Bear Creek allows only a few opportunities for Brandi to display the passionate range that made me fall in love with her voice and her music.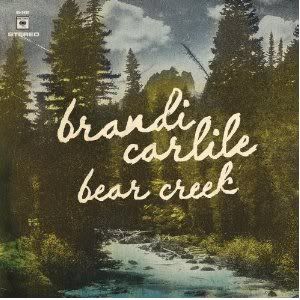 Bear Creek opens with a catchy country message and vibe on "Hard Way Home."
The bluesy, gospel-tinged "Raise Hell" follows and is by far the best track on the album. Inspired by Brandi's emotional response to turning 30, it plays like an amped up classic murder ballad. Brandi's voice soars on the chorus and her band sounds like a runaway freight train. It's an infectious, exhilarating song that more than makes Bear Creek worth a listen, but also exemplifies the wasted opportunity of the album as a whole.
Other highlights include "Keep Your Heart Young," "I'll Still Be There" and "What Did I Ever Come Here For."
The set comes to a remarkable conclusion with "Just Kids," a plaintive lament to the lost innocence of childhood which seems sadly out of place on this album. It's a haunting song with a gorgeous chorus which continues to echo long after the album is over. The wonderful conclusion of nature sounds evokes memories of a simpler time.
I like about 50% of this album and love a couple of the songs, which might warrant a completely good review for other acts. It's certainly better than most modern releases and I hate to be less than complimentary to such a talented artist. But Brandi's preceeding work was so sterling, I can't help but hold her to a higher standard.
BUY @ AMAZON