London-born, Italy-based and angelically-voiced singer-songwriter Sylvie Lewis will release her third studio album, It's All True, on June 19th. Her previous album, Translations, was one of my Top 2007 Albums. I strongly suspect It's All True will make this year's list.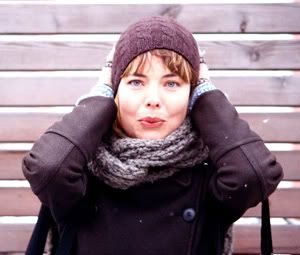 In contrast to the immediate hold its predecessor took of my heart, It's All True is more of a grower. The mellow, country-folk flavor of the opener "Dylan's Arms" and the claphappy "Leaving, For The Last Time" took a few listens to really sink in. But Sylvie's elegant voice and delicate melodies elevate even the most simple of tunes to a higher level.
"Dylan's Arms" in particular gets better each time I hear it. The song is both an ode to Bob Dylan himself and a relishing of the comfort found in any beloved piece of music.
Many of the other songs also take their inspiration from other artists. "Leaving, For The Last Time" was born from Sylvie's first viewing of William Blake's drawing "The Reluctant Soul Leaving The Body," while "Kindness" is about Sylvia Plath's attempts to protect her children from her own suicide.
"The Song I Sang Before I Met You," which I shared earlier this month, was co-written by UK electro-pop singer Gary Go.
The bright and lovely "Summer Salt" – named for a student's playful misspelling of somersault – recalls the lilting dreaminess of Translations.
The sublime "The Fish & The Bird" follows. A jaunty fable of star-crossed love with just the softest, lightest hint of jazz, it is the stand out track on the album. You can watch the video for the song below.
The whimsical NYC interlude "The Doorman" leads into the fantastic "The Ballad of Honeymouth." The latter tale of a Southern Casanova mingles a genteel, tinkling piano melody with a retro girl pop chorus.
Sylvie's beautiful cover of the Italian song "Gocce" is perfectly paired with "Streets of Rome," which features Sondre Lerche.
It's All True closes with a reworked rendition of the traditional folk song, "Give Me The Roses Now."
*Soundcloud stream uploaded w/ permission of artist's PR rep
The album is not yet available for purchase, but should be at the links below closer to the release date…