Garbage are back! Shirley Manson and her boys have returned with their fifth studio album, Not Your Kind of People. Their first album in seven years, it is also their first independent release on their own STUNVOLUME label. If you've never heard Garbage before, download "Only Happy When It Rains
" from their excellent 1995 self-titled debut
. I can almost guarantee you'll like it. Garbage was to the mid-90s what Florence + the Machine are today – grandiose, rocked up electro-pop drama fronted by a wailing red-haired banshee. Their new album successfully captures and modernizes their snarling past glory.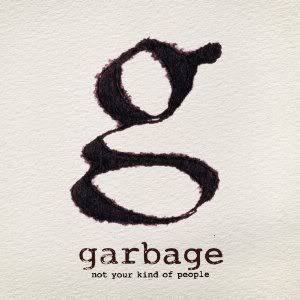 Tracks like the opener, "Automatic Systematic Habit," and "Man on a Wire" are catchy, high energy, electro-rock cacophonies.
"Big Bright World" is a more atmospheric uptempo track reminiscent of Venus Hum's "Montana
."
The darker toned "Control" recalls the Version 2.0
-era, while the eerily melodic "Sugar" plays like a sequel to "Milk
."
Quietly defiant and somewhat menacing, "Not Your Kind of People" is appropriately the album's centerpiece as well as its standout track.
The finale "Beautiful Freak" twists "This Little Light of Mine" into an anthem for the outcast.
Buy Album @ Amazon
Or…
Buy Deluxe Edition
, which includes four extra tracks for three extra bucks.