Kate Miller-Heidke's Nightflight will make its U.S. debut on June 19th, and I'm happy to say Muruch is giving the album its first U.S. review. If Nightflight is not at the top of my best albums list this year, there must be some spectacular music ahead in 2012. While Kate's 2010 quirky, avante-pop release Curiouser garnered her comparisons to Cyndi Lauper, the darker drama of her new songs are often closer to Muse.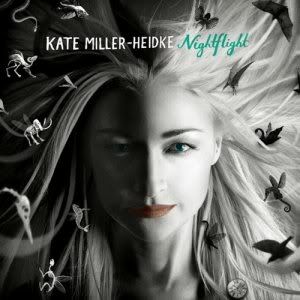 The next day the sergeant
Found her blue dress in the creek
Her parents were so angry
They put the blame on me
The opener "Ride This Feeling" is a half full/half empty glass of song depending on your mood. It celebrates the exhilaration of breaking free and truly living, but also gives the sense that it's more of a daydream than a reality for the narrator. Still, the song is driven by the desire and determination to make the dream come true.
"Sarah" is an impressive, stunning piece of work based on a true story. The chilling tale of a girl who disappears at a late '90s music festival, the titular "Sarah" reappears a fortnight later with no memory of what happened to her. Kate's use of operatic vocals as embellishments to the arrangement only serve to heighten the eerie tension of what is by far the stand out track on the album. You can watch the creepy video for the song below.
The album's title track vents the myriad of frustrations and discomforts found in the unique hell that is transatlantic flight. Lyrics like "if one more person coughs on me, I'm going to punch them in the face" show Kate hasn't lost the wry sense of humor that caught everyone's attention with her "Facebook Song."
The beautiful, melancholy, string-accented piano ballad "Let Me Fade" is another favorite of mine.
As the video below shows, "I'll Change Your Mind" masks a desperate woman's stalking of her ex-boyfriend with an upbeat, cheery pop tune.
The delicate "In The Dark" perfectly captures the bittersweet feeling which engulfs happy memories of a lost loved one.
Inspired by Irish folk music, "The Devil Wears a Suit" takes a peak at evil lurking behind closed doors. And "Fire and Iron" is a literally haunting song about the aftermath of a fatal car crash.
Kate herself says of the new album: "If Curiouser was a playful, dysfunctional adolescent, Nightflight is more like a damaged, melancholy person in her late 20s. With Nightflight, we wanted something darker and more organic, more beautiful and more expansive."
She certainly got her wish.
BUY @ AMAZON
Kate Miller-Heidke Official Site