He's back! Australian singer-songwriter and multi-instrumentalist Xavier Rudd just released his seventh studio album, Spirit Bird. Xavier is one of my all-time favorite artists and his music never fails to amaze, uplift and thoroughly entertain me. While his previous release celebrated his relationship with his touring band, Xavier went back to solo basics for Spirit Bird. Save for a few guest singers, Xavier wrote, sang and played every instrument (of which there are many) on this spectacular new collection.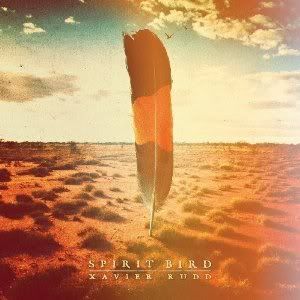 There's just nothing like the sound of a yidaki (didgeridoo), Xavier's signature instrument. Its distinctive rumble opens the album on the breathtaking "Lioness Eye."
Sweet harmonica heralds "Comfortable In My Skin," a beautiful and wistful exploration of suffering both internal and external. The song conveys so much with its deceptively simple lyrics – self-acceptance, longing for an old love, physical pain and emotional anguish over world conditions.
The album's title track is a gorgeous, soaring acoustic ballad featuring backing vocals by children from Cape Byron Rudolph Steiner School.
"Bow Down" quakes with the bluesy rock that marked 2010's Dark Shades of Blue, aided by the backing wails of Anishinabe First Nations Big Drum Group.
Xavier's yidaki makes a thunderous return on the mesmeric "Culture Bleeding," mingling with Xavier's own wails, bird calls, Cape Byron's children's choir and guest vocals by MC Odds' Freddy Leone.
"Paper Thin" softly sings of the fear of old wounds reopening in a newly reconciled love.
The finale "Creating a Dream" plays like the Aboriginal sequel to Lennon's "Imagine."
Every one of Xavier's albums since 2007's Food in the Belly has been at the top of my Albums of the Year list. Spirit Bird will surely be no exception.
You can download a free, legal mp3 of the album's title track at Rolling Stone and stream "Comfortable in My Own Skin" at American Songwriter.
BUY @ AMAZON