One of the advantages of marrying into an Irish family is hearing about great Irish musicians before the rest of the world. Such was the case in 2001 with a then unknown Damien Rice. More recently, my brother-in-law caught Eric McGrath's performance at an open mic in Dublin, Ireland and said he was one to watch. After hearing the Irish-Spanish singer-songwriter's debut album, Little Ripples, I wholeheartedly agree. I expect Eric McGrath won't be Ireland's best kept secret for long.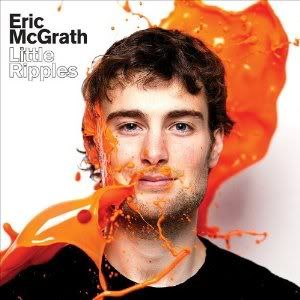 Songs like the opener "Let's Get Curious" and "Ripples Into Waves" layer McGrath's warm voice over atmospheric, swaying acoustic melodies.
Many of his songs, particularly the spectacular "A Lost Romance," mingle Irish folk with Latin rhythms resulting in an almost Reggae sound. Other tracks delve into slightly more standard indie-folk.
The bouyant pairing "These Are the Good Old Days" and "Alluring Lady" defy category by adding retro girl-pop and doo-wop backup singers to the mix.
The album takes a whimsical turn with the chiming piano of "Before You Left" and the lilting, banjo-plucked carousel of a finale "Sixty Seconds."
McGrath's intimate singing style and breezy, multi-instrumental compositions often fall somewhere between Bright Eyes and Xavier Rudd, which is an extremely interesting and unique place to be. But even such grand comparisons are tenuous, because Eric McGrath is definitely blazing a creative trail of his own.
You can hear samples and watch videos of several tracks below, but please, people, support this talented artist by buying his album and getting the word out!
BUY CD @ AMAZON
BUY MP3S @ AMAZON
Buy @ Amazon.co.uk