Ann and Nancy Wilson, the sisters behind seminal rock band Heart, just released their memoir entitled Kicking and Dreaming. In it, the sisters share details of their childhood, tumultous rise to fame in the 1970s, embarrassing big-haired success in the '80s, decline of their popularity in the '90s, various side projects since then, upcoming album, Fanatic
, and all the celebrities they've met along the way. In addition to traditional book formats, the memoir is also available as an enhanced ebook with exclusive video content and a new, original song.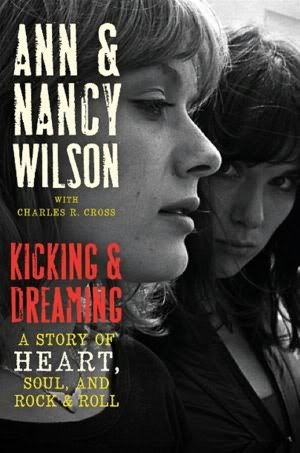 "We didn't want to be Beatle girlfriends. We wanted to be Beatles."
Reading through the Wilson family's early years wasn't all that interesting to me, but did provide some insight into the sisters' bond and motivations. More engaging is reading of a young Ann Wilson's struggles with weight and external pressure to lose it – from a doctor's crazy diet to the heart-breaking description of elephant valentines and more blatant bullying from vicious classmates.
From their first live performance driving churchgoers from their pews with covers of Elvis and The Doors to their defiant anti-disco set at a popular '70s club, Heart's beginnings were more punk than you'd expect.
Throughout their career, the sisters have been plagued by an outrageous amount of sexism (including from their record labels and other bands) as well as a plethora of condescending and sometimes outright insulting questions and/or labels for being "Women Who Rock."
Also chronicled is the insane amount of judgement Ann received for her weight throughout their career, even when she was at her skinniest in the 70's. I remember even as a kid wondering why, when she was obviously the lead singer, Ann was relegated to the background in so many of the band's videos. It's the same reason Amanda Palmer's old label pressured her to reshoot her "Leeds United" video, because they said she "looked fat," and why Adele is still criticized for weight despite her success. It's really why modern music is in the appalling state that it's in. The music industry prefers model thin props over actual talent.
The sisters also dish the dirt on bands they toured with back in the day and other scandalous celebrity encounters, including Lynyrd Skynyrd, Van Halen, Stevie Nicks, Queen, Sandra Bernhard, Tom Cruise, Courtney Love, The Rolling Stones, Bono and Steve Jobs.
They candidly address their struggles with drug abuse and alcoholism, Ann's on-stage panic attacks at the height of their popularity, and Nancy's sweet, shy (and ultimately doomed) romance with director Cameron Crowe.
Despite such difficulties, though, the Wilson sisters never seem to let external influences slow them down or weaken their love of making music.
They also share their surprising connection to the early '90s grunge scene and association with bands like Mother Love Bone, Pearl Jam, Alice in Chains, Nirvana and Soundgarden. Most striking (other than Ann's unexpectedly close friendship with Jerry Cantrell) was Nancy's comment on how Andy Wood's death didn't deter his crowd from drug use: "Stardom had yet to happen to the class of grunge. Nothing had been gained, so many didn't understand what could be lost."
And, of course, the Wilsons tell the stories behind all of their big hits – from "Magic Man" and "Barracuda" to "These Dreams" and "Alone."
For the most part I found it an interesting and seemingly genuine read, but I do wish the timeline was more evenly distributed throughout the book. Most of the book deals with their childhood and rise to fame in the '70s, while they cram the last three decades into the final fourth of the book. Still, it's an intriguing read for any Heart fan. Which I've been for most of my life.
Buy @ Amazon