Where did this guy come from? Other than Oklahoma, I mean. The photo on JD McPherson's debut album, Signs & Signifiers, looks like another average singer-songwriter guy, but his music is a delicious mix of brassed up retro soul and rumbling vintage blues-rock. It's been a very long time since I was struck by such an intense sense of awe while listening to an album.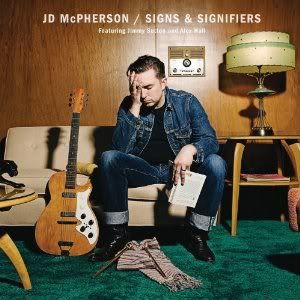 Even more amazing than former art teacher and punk rocker McPherson's robust voice is that he wrote almost all of these songs – most of which sound like classics by Little Richard, Jackie Wilson or The Big Bopper with a bit of Jerry Lee Lewis, Buddy Holly and Sun Studios-era Elvis thrown in.
"Scratching Circles" and "Fire Bug" are the standout tracks and other highlights include "Northside Gal" (you can download the mp3 below) and "I Can't Complain," but there's not a weak track to be found here. This album will definitely be on my Best of the Year list.
BUY @ AMAZON