Wonderland Creek is a charming, cheery little novel by Lynn Austin. Austin pays homage to Lewis Carroll by dropping her fiesty, somewhat spoiled, bookworm heroine, Alice, in a strange, Depression-era, backwoods Appalachia town called Wonderland Creek (hence the title).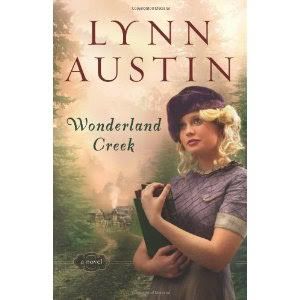 I first heard of the book through the review posted on the WV Book Festival Blog by local librarian and all around great gal, Susan Maguire. Susan's review gives a very good, detailed summary of the plot and I agree wholehearted with her fond assessment of the story.
What I enjoyed most about the novel was the way Austin took very bleak elements – poverty, unemployment, corruption, fueds, the hard life of coal miners and painful memories of slavery – and mingled them with joys of that simpler time – the hospitality, faith, selflessness, hard working closeknit communities and sheer human connection – that are sadly fading in the modern age. I'm not usually a fan of what's called "Inspirational" fiction, but this one is very well written. The book reminded me very much of Christy. Sentimental and sweet, but with enough touch of the realistic to keep it interesting.
Wonderland Creek is one of those uplifting reads that leaves a smile on your face at the end, though you'll miss that wonderful little world when it's over.
BUY @ AMAZON