Muse recently released their sixth studio album, The 2nd Law, and, wow, was it ever worth the wait. I'm truly in awe that the band was even capable of successfully following 2010's brilliant, The Resistance (one of my Top Albums of The Decade). Not only does The 2nd Law continue that grandiose marriage of arena rock and classical music, but its futuristic electronic twist allows the album to stand completely on its alone. Definitely one for the year end list.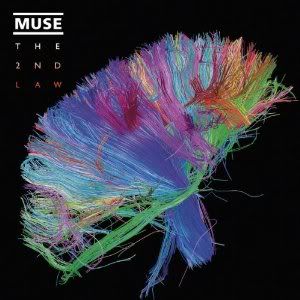 The bombastic drama of "Supremacy" heralds the welcome return of Muse. Theatrical verses – think Les Miserables meets Phantom of the Opera – explode into a finale that sounds like Jimi Hendrix rippin' on a James Bond theme.
The slinky, slow burning electro-rock of "Madness" then spins the album into another orbit. The song fairly vibrates with electronic beats and searing rock guitar.
"Panic Station" plays like a catchy, rocked-up, Bizarroland mashup of Willy Wonka's "Pure Imagniation" and Genesis' "Land of Confusion."
"Survival" is the album's stunningly gorgeous and multi-faceted centerpiece, weaving thunderous rock, classical song structure and instrumentation with operatic backing vocals into a glorious, cross-genre cacophony.
The actual song "Animals" doesn't really stand out, but I thought it clever that Muse used sound samples from a Wall Street trading floor to imitate a mob at the end.
"Explorers" is an uncharacteristically soft and subtle ballad.
"The 2nd Law: Unsustainable" is an environmentally conscious, sci-fi thriller of a song. It's epic, it's rough, it's absolutely spectacular.
Overall, I don't foresee listening to The 2nd Law quite as obsessively as I continue to do so with The Resistance. But the standout tracks are truly superb.
You can watch the videos for "Madness," "The 2nd Law: Unsustainable" and "The 2nd Law: Isolated System" below.
BUY @ AMAZON