Guest Post By: Heather
The new release from The Killers, Battle Born, reflects the band's Vegas roots with a grown up musical sound. Brandon Flowers continues to belt it out like a Broadway singer, but this time with a greater range and precision than he had on previous efforts. It sounds as though he has been taking vocal lessons from a stage performer, which only enhances the other band members' individual qualities.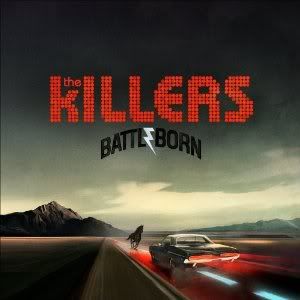 Conjuring up images of the desert and wild horses, the songs on Battle Born are forged poetically from the band's hometown of Las Vegas. A few of the tracks begin with a twangy rockabilly strain. This blending of sounds from rock, electronic (yes, the band has picked up a synthesizer somewhere), western and show tunes makes this a difficult album to place in a specific genre.
Though I enjoy the album for its unique sound unparalleled by other popular artists, I find it difficult to distinguish one song from the next. It's as though The Killers picked one song that was extraordinary and made it into an entire album. This serves to make Battle Born feel more like a modern opera where the music is made to blend together, but also has the potential to turn away listeners who have grown accustomed to simply downloading individual mp3s. I'm thankful to have the whole album to play from start to finish.
For anyone looking to download only one or two songs, I would suggest "Runaways" – a great narrative of troubled romance – and the lesser played but passionate song, "Flesh and Bone."