What We Saw From The Cheap Seats is Russian-American singer-songwriter Regina Spektor's latest release. I've been chewing on this album for a long time and I still have frustratingly mixed emotions about its eccentricities. Most of it is sheer, breathtaking brilliance. I especially love the cinematic, piano pop opener "Small Town Moon
" – seriously, even if you don't buy the album, you must download this fantastic song
. You can stream it and watch the video below.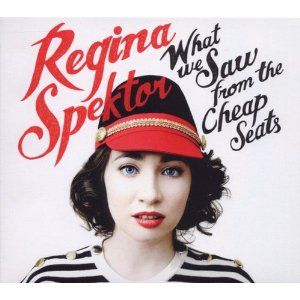 there's a small town in my mind
how can I leave without hurting every one that made me?
how can I leave without hurting every one that made me?
oh, baby, baby it's all about the moon
I wish you wouldn't have broke my camera
'cause we're gonna get real old real soon
today we're younger than we ever gonna be
Other noteworthy tracks are the buoyant, bilingual ditty "Don t Leave Me (Ne Me Quitte Pas)" and "Rowboats," which is a cleverly conceived masterpiece about masterpieces.
first there's lights out, then there's lock up,
masterpieces serving maximum sentences
it's their own fault for being timeless
there's a price to pay, and a consequence
all the galleries and museums, they will stay there forever and a day
all the rowboats in the oil paintings
they keep trying to row away, row away
The album also features some truly exquisite ballads, including the gorgeous, wistful simplicity of "Firewood," the oh-so-pretty and sweet love song "The Party" and "How," which could easily be a classic soul song.
the piano is not firewood yet
they try to remember but still they forget
that the heart beats in threes, just like a waltz
and nothing can stop you from dancing
rise from your cold hospital bed
you're not dying
Unfortunately, there are experimental elements in other tracks I personally find very irksome. The entire pseudo-Italian gangster anthem "Oh Marcello" really, really gets on my nerves and the otherwise lovely "Open" is absolutely ruined by the gasping, choking noises that punctuate the second half of the song. Every single time I've listened to the album, I go from thinking "Wow, why haven't I reviewed this yet? This'll be my #1 of the year!" to "What was she thinking? It sounds like she recorded something dying."
Of course, I've felt this conflict with most of Regina's post-Songs
work. It seems the success of Soviet Kitsch
made her so self-aware of her own quirkiness that she sometimes takes it too far to be enjoyable. I respect Regina's experimentation, but it makes for a jarring listening experience. Especially when randomly thrown in to what is otherwise a very beautiful collection. Such is art, I suppose. I respect the haphazard artistic technique of a Jackson Pollock, but I'd much rather look at a Van Gogh.
you're like a party somebody threw me
you taste like birthday, you look like New Years
you're like a big parade through town
you leave such a mess but you're so fun
The spectacular far, far outweighs the bad here, so I still love the album and I highly recommend it for Regina's lyrical wit and wisdom alone. What We Saw From The Cheap Seats will be pushing another artist off my year end list – coming soon!
BUY CD @ AMAZON
BUY MP3S @ AMAZON