Finally, new music to get excited about! Two weeks into 2013, I've been disappointed with the lackluster new releases I've heard so far. Then Brooke Waggoner's Originator blew in like a breath of very fresh air. I'd been anticipating the album since Brooke's spectacular set at Mountain Stage last November. Originator is set for release on March 5th and it's an extraordinary collection.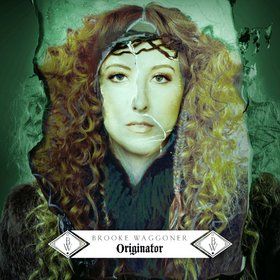 When Brooke performed these songs live, her voice and piano roared with fiery, passionate intensity. Unfortunately, the soft focus production of the album dampens that fire a bit. I'm guessing the goal was to give Originator the same ethereal sound as Brooke's debut, Go Easy Little Doves, but I preferred Brooke's unrestrained live performance of these songs. Regardless, Originator is a beautiful, brilliant and absolutely enchanting album.
The opener "Shiftshape" glides, soars, plummets and rises again on gentle jetstreams of piano.
"Rumble" is the standout track with its "my second wind" refrain and thunderous piano crashes layered over bombastic horns and choral voices.
"From The Nest" is a lovely ballad, while "Ink Slinger" is a fantastically frenetic pop song.
"Squint" has the languid atmosphere of a Pink Floyd song….that is, if it were covered by Tori Amos.
The beautifully orchestral "Waterlogged" is a rolling rumination on the ups and downs of life, and "To Love" is the quiet, moody finale.
I keep a "nominations" list throughout each year to help me compile my annual Top Albums lists. Brooke Waggoner's Originator is the first album to be added to my 2013 Top Albums nominations list.
You can download a free, legal mp3 of "Ink Slinger" at the following link…
Brooke Waggoner – Ink Slinger (mp3 download page)
BUY @ AMAZON