I expect Hem's new album, Departure & Farewell, will be battling Foxygen for my Top Album of 2013. Hem have all but perfected their "Metropolitan Country" sound and singer Sally Ellyson's voice is truly timeless. Depature & Farewell is every bit as panoramic as 2006's spectacular Funnel Cloud (which is still available as a free download), but the new album travels in an entirely different direction. Whereas Funnel Cloud conjured up fantastical images of the wide open plains, Departure & Farewell is a dazzling transcontinental journey — by air and by sea.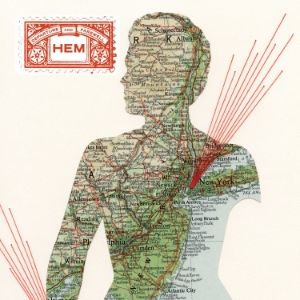 our eyes open wide as the sky is turning red
we're caught in the tides tangled on the bed
and we rise, and we fall
and we land where we're led
Lyrically, Ellyson says, "This album is about loss, about the fear of loss and about the trajectory of life…it was one of the more emotionally resonating albums to record."
The opening title track is a whimsical, albeit wistful, parting gift for a loved one left behind.
"Walking Past The Graveyard, Not Breathing" rises and falls on lush, gorgeous waves of intricate folk instrumentation.
"The Seed" is a beautifully string-accented lark song, while "Bird Song" is a pretty lullaby for grownups.
"Things Are Not Perfect In Our Yard" has a gentle breeze of a melody.
"The Jack Pine" is pure poetry, as the following lyrics show:
just like the rains in winter, when the leaves bear and bend,
the road has got a foot of water, but the fields are full again.
you fallen, broken seed. the day returned to you,
and shook you from your sleep, and laid the world to view.
you dreamt of fire and woke to find it true.
"Tourniquet" is a ruminative train ride visit home to Brooklyn. You can watch the video for that song and "Seven Angels" below.
The album's centerpiece is "Gently Down The Stream," which is a lovely, windswept seafaring tale.
Such a long, emotionally wrought sojourn leaves "Traveler's Song" as homesick as a child at summer camp, leading "The Tides At The Narrows" to sail softly home.
"Last Call" is a toast to adventures abroad as well as home sweet home.
The gospel-tinged finale "So Long" confirms the metaphorical layer to the album's themes of leaving and loss.
BUY @ AMAZON