The O's Thunderdog came to me with the eye-catching, lofty comparison to "The Avett Brothers, Gram Parsons, Fleet Foxes and Mumford & Sons." So I thought the band (or their PR rep) was either very brave or very foolish as I began to listen. Thankfully, the comparison was a testament to their courage, accuracy and, of course, talent. Their sound often does fall between The Avett Brothers and Mumford & Sons, with sweet melodies and clangy banjo in abundance throughout this lovely album that's just rough enough around the edges.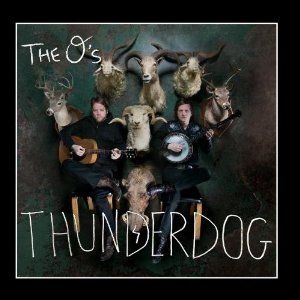 My favorite songs are "You Are The Light" and "Rearranged," which hint at Castaways and Cutouts
-era The Decemberists.
"Cicerone" is another standout, hinting at Old Crow Medicine Show with its harmonica blistering arrangement.
Other highlights include the opener "Outlaw," (the free, legal mp3 of which you can download below) "Go With Me" and "Running Games."
The O's – Outlaw (mp3) *
*mp3 hosted by & posted w/ permission of band's PR rep
Buy @ Amazon