For over a decade, Said the Gramophone has been one of the seminal music blogs and the most well written thanks to the distinctively eloquent prose of founder Sean Michaels. Though I'd been sharing music on Muruch a few years before Said the Gramophone was created, its literary presence in the then burgeoning mp3 blog scene certainly influenced my own approach to writing about music. Subsequently, I've rarely felt such excitement, sisterly pride and faith-like confidence in a book's potential to entertain and inspire as I did turning the first page of Sean's debut novel, Us Conductors
.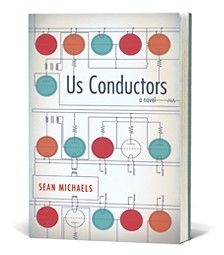 "The sound of the theremin is simply pure electric current. It is the chanting of lightning as it hides in its cloud. The song never strains or falters; it persists, stays, keeps, lasts, lingers. It will never abandon you.
In that regard, it is better than any of us."
Us Conductors is an extraordinary work of historical fiction that is equal parts love story and spy novel – and all about the theremin. The tale encompasses the unusual life story of the instrument's Russian inventor, Léon Theremin, particularly his romance with the theremin's most famous player, Clara Rockmore, as well as a whole lotta Stalin-era international intrigue.
Sean portrays Léon Theremin as the Steve Jobs of the early 20th century with his innovative inventions, motivational speeches about bringing cutting edge technology to the common man and his ongoing battle to maintain creative control amidst greedy corporations and sinister political agencies, both American and Soviet.
Yes, I imagined a theremin in every home; not just the billions of new songs that would sing out, but the realization of millions of Americans, Englishmen, Spaniards, Siamese: If we can do this, what else can we free people accomplish?"
I read the first half of the book during a recent vacation, happy to discover it was the perfect book for a perfect beach day. I fell into the novel's poetic description of Léon and Clara's budding romance with seagulls flying elegant circles in the clear blue sky above me, the sun glistening gold on the sea beside me and Allison Crowe singing "Hallelujah" into my ears.
The sweet, old-fashioned courtship of the protagonist scientist and his beloved muse often brought to my mind one of my favorite poems, "Recuerdo" by Edna St. Vincent Milay.
For dessert you ordered a chocolate parfait. I ordered a cup of coffee. I drank it sweet, with two small spoonfuls of sugar. Someone was playing records, one after another. They all sounded like love songs. You hid your grin as you scraped mousse from the bottom of the parfait glass."
Unfortunately, my return home was accompanied by the novel's Kafkaesque second half. It was a drastic change in tone, though the quality of Sean's writing remained steady throughout. I suppose history left Sean little room for creative license. The sorrow and disillusionment that plagued the novel's final pages ultimately overshadowed the pure joy of its exquisite beginning. Nevertheless, I hope this was just the first of many Sean Michaels novels to come.
Buy Book @ Amazon
You can hear music, both classic and modern, that inspired the novel at Sean's Official Site and here's a video of an aged Clara Rockmore herself playing theremin on Saint-Saëns' "The Swan," a piece frequently mentioned in the book…