Ani Difranco will release a career retrospective titled
Canon
on September 11th. The two-disc set contains 36 tracks from the many albums Difranco released between 1990 and 2006, with newly recorded versions of five songs. Ani was the original "indie" artist for my generation, and is always the first artist I mentioned during any discussion about file sharing or the validity of the internet as a venue for music. I was first introduced to her music through mp3s, and I suspect I still would know nothing of her immense talent if not for the internet.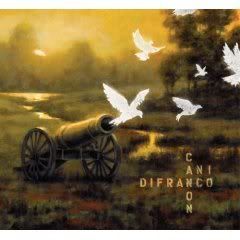 If I were to compile my own Ani collection, it would surely begin with "Cradle And All" and "Shy" from Not A Pretty Girl, followed by "As Is" and the title track from "Little Plastic Castle". Thankfully all of the above are present here, as well as fan favourite (though not mine) "32 Flavors".
But I was surprised by the lack of content from Dilate. The heartbreaking title track is the only original cut from the album. The other songs from that era are either taken from the 1997 live set Living In Clip – "Untouchable Face" and "Joyful Girl" – or presented as completely new and somewhat lackluster recordings – "Napoleon" and "Shameless". And sadly there is no version of "Superhero" or "Done Wrong".
Now I realize that such an extensive catalogue as Ani's can't possibly be condensed to please every or even most fans, and the songs are there even if in different forms. But the inclusion of the "distracted" clip as well as the claim that this set was assembled to reflect Ani's own view of her career seem to indicate that this glaring omission may have been intentional. I don't think I'm alone in viewing Dilate as a very important album both for Ani's fans and as a step in the evolution of her sound.
Anyway, my Ani collection would also have included Up Up Up Up Up Up's "Jukebox", Not A Pretty Girl "Hour Follows Hour", Puddle Dive's "Used To You", and Revelling/Reckoning's "School Night", but alas none of them made the cut. "Subdivision" is in there, at least. As well as a good selection of songs from her more recent albums.
So this is not the definitive Ani Difranco collection for me, and I suspect not for a lot of her longtime fans. But it should appeal to newer fans and those that prefer her recent releases to the older ones. And I suppose the important thing is that this is Ani's vision of her own work, and she is still in control of her art.
Ani Difranco – Both Hands (new version) (mp3)