Irish band Bell X1 will release their sixth album, Chop Chop, on June 28. The album's opener and first single, "Starlings Over Brighton Pier," is unusually, exquisitely beautiful. So much so, it makes the rest of the album deathly pale in comparison.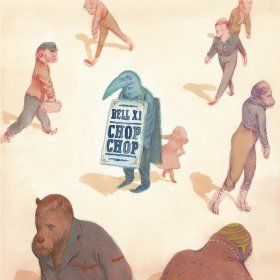 There are other highlights — the heavy drumbeats juxtaposed with Paul Noonan's sweet falsetto in "A Thousand Little Downers" and the hint of retro pop in "Feint Praise" — but none of the other tracks comes even close to the initial level of brilliance found in "Starlings Over Brighton Pier."
Whether due to the rush of its creation (the album was recorded, mixed and mastered in only two weeks) or the outstanding, overshadowing depth of its opening track, Chop Chop as a whole simply doesn't excite me as much as its predeccessors, Flock and Blue Lights on the Runway. That being said, Chop Chop is still much better than anything you hear on the radio these days. The problem with truly great bands like Bell X1 is that they raise the bar so high that sometimes not even they can reach it again.
BUY @ AMAZON