It's here! And it's magnificent! Brandi Carlile's fifth studio album, The Firewatcher's Daughter
, was just released via ATO Records and it sure is somethin' else. Recorded almost entirely as first takes without any demoing and little rehearsal, The Firewatcher's Daughter is an unparalleled display of musical brillance.
We throw around the word "wail" so easily when it comes to big voices, but Brandi's wail is a true, heart-in-throat keen so full of emotion it sounds on the verge of breaking yet so strong it deftly bends every note to her whim. And her longtime collaborators Tim and Phil Hanseroth (a.k.a. "The Twins.") are with her every glorious step of the way.
"Wherever is Your Heart," "Beginning to Feel the Years," "Wilder (We're Chained)" and the string-accented "I Belong to You" are the kind of beautiful ballads that would tug heartstrings no matter who sang them, but Brandi's supernatural voice lifts them up to a celestial realm.
The album's first single, "The Eye," finds Brandi reigning in her extraordinarily big voice for gentler, sun-drenched, pop-folk harmonies.
"Things I Regret" is a deceptively uptempo, high energy road song that quickly builds, gaining momentum like a steam engine til the roaring finale.
Then "Mainstream Kid" throws a quaking, blues-rock stick of absolute dynamite on the tracks and blows the whole thing to hell. This woman can make Hendrix, Skynyrd, Ram Jam and Nirvana sound like soft jazz!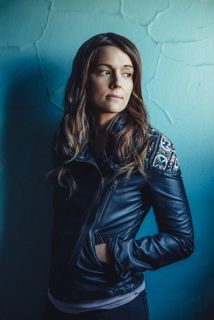 "Alibi" stays at full throttle rock level, but there's an unexpected, subtle undercurrent of summery, California pop to the chorus melody that gives it a catchy and slightly disorienting swirl.
"The Stranger at My Door" is an intoxicating, mesmeric gulp of noir, a phantasmagoric masterpiece that bends the mind as much it does genre…like Johnny Cash fronting Led Zeppelin in a David Lynch movie then Trans-Siberian Orchetra jumps on stage to close with a freakin' rock riff of "When Johnny Comes Marchin' Home Again!" It is one of the greatest, most deliciously unusual songs ever constructed. Wow, just wow.
The album closes with a fitting cover of The Avett Brothers' "Murder in the City."
There is truly no one like Brandi Carlile at her fierce, brilliant best. She's somehow simultaneously the heir to The Beatles, Janis Joplin and The Man in Black. I'll be shocked if The Firewatcher's Daughter isn't my #1 album come December.
Buy @ Amazon