I've waited in eager anticipation for new music by Luminescent Orchestrii, and Neptune's Daughter will finally be released on January 20th! Since I reviewed the band's previous album Too Hot To Sleep two years ago, they have signed to Nile Mile Records – also home to The Zydepunks. I was first introduced to the music of Luminescent Orchestrii when they performed with The Dresden Dolls. Their sound dances between "world" music and what I call the demented circus genre. At times their songs are similar to the twisted Roma acoustics of 17 Hippies, yet there's a deranged frenzy to the Orchestrii's music that sets them apart.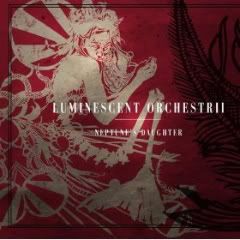 Luminescent Orchestrii are violinists Sarah Alden and Rima Fand, guitarist and harmonica player Sxip Shirey, and Benji Fox Rosen on double bass. Neptune's Daughter features guest musicians Greg Squared on clarinet, percussionist Mathias Kunzli, and human beat box Adam Matta. All of the core band members share vocal duties, often simultaneously.
The frenetic instrumental "Moldavian" sets the deliciously bizarre stage for this unique song cycle before Sarah and Rima's haunting vocals churn up a wicked phantasmal rendering of "Mur Stojmeno", a traditional Bulgarian song.
"Nasty Tasty" (first posted on Songs: Illinois) is a sexy, trippy little number featuring Matta's human beat box. Yet Neptune's Daughter is otherwise filled to the brim with the kind of warped traditional Eastern European music that made me love Luminescent Orchestrii in the first place.
The ominous instrumental "How To Play Romanian" creaks, groans, and lurches about for the first two and a half minutes until a whirlwind of demonic strings drags it into the underworld. The album falls into a churchyard hush with the lovely Jewish folk song "Di Zun Vet Aruntergeyn".
The ladies croon seductively on the eerie "What The Water Said", belt out the whizzing gypsy tune "Jarba", then wail and hum the Cuban ballad "La Tarde". Exotic percussion faces off with exuberant strings in the stunning "Dreaming In Turkish" and rabid "Militsa". Finally, Sxip Shirey snarls verses while the girls play The Andrews Sisters on the diabolically romantic title track.
At best, I thought I would like this album as much as Too Hot To Sleep, but Luminescent Orchestrii have grandly outdone themselves here. Neptune's Daughter is the first release of 2009 that I expect to list as a favorite at the end of the year. It also doesn't hurt that the album's cover features a mermaid (the English translation of "Murúch").
Luminescent Orchestrii – Moldavian (mp3 expired) *
Luminescent Orchestrii – Nasty Tasty (mp3 expired) *
*mp3s posted w/ permission of record label
Luminescent Orchestrii Official Site