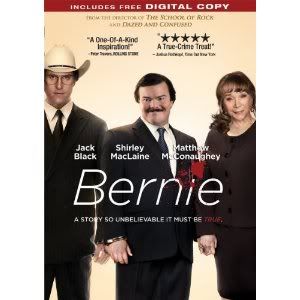 Directed by Richard Linklater (Before Sunset
, Me & Orson Welles
), Bernie is an extremely morbid but also extremely funny dark comedy.
Based on the true story of a beloved small-town mortician, Bernie stars Jack Black as the titular character and Shirley McLaine plays the wealthy, curmudgeonly older widow whose bizarre friendship with Bernie takes a twisted turn. Matthew McConaughey also gives an over-the-top performance as the melodramatic local prosecutor.
Quirky townfolk interviews with actual friends and neighbors of the real life Bernie keep the mood very light despite the somber plot. And Black's brilliant comedic portrayal is uncharacteristically subtle, but still big on laughs.
Bernie is an unusual, humorous and superbly done film and Jack Black deserves at least an Oscar nomination for it.
BUY DVD @ AMAZON