This month marks a decade of Muruch! Well, I created the original site in 1999, but didn't post music on it until July, 2000. If you're interested in the site's convoluted history, you can read the saga on the About page. To celebrate Muruch's 10th anniversary, I asked my very favorite artists if I could share some of their mp3s with you (see below). And I also have a favor to ask you readers at the end of this post…
Anyone who's read Muruch over the years knows that I like and write about music in just about every genre imaginable. The five artists that this site has helped promote more than any other (because they are my favorites) are: Allison Crowe, Gaba Kulka, Hannah Fury, Xavier Rudd, and The Dresden Dolls (part of Muruch's "demented circus genre"). If you click on their names, you can read most of my reviews (sadly, the early archives were lost during a domain shuffle).
Unfortunately, The Dresden Dolls and Xavier Rudd albums were released on labels that aren't mp3-friendly, so I couldn't obtain permission to share their music. But my favorite independent gals Allison Crowe, Gaba Kulka, and Hannah Fury were all very enthusiastic and generous in granting me permission to include their mp3s in this celebratory post. I've chosen to share two songs from their early recordings with a more recent track to show the progression of each artist over the years…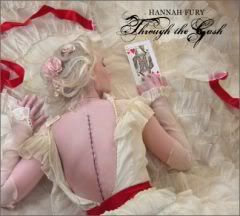 Hannah Fury – The Necklace of Marie Antoinette (mp3)*
Hannah Fury – It Was Her House That Killed Nessarose (mp3)*
Hannah Fury – Beware The Touch (mp3)*
Does anyone remember the music site Epitonic.com? That's where I first heard Hannah Fury's music 10 years ago. Hannah is the prime example of how a random mp3 on a music site can create a devoted fan (that would be me) and she is one of the more unique artists I've written about over the years. The eerie "The Necklace of Marie Antoinette" first reeled me in and her Wicked-inspired songs (like "It Was Her House That Killed Nessarose") on The Thing That Feels sealed the deal. "Beware The Touch" is from Hannah's haunting last album Through The Gash.
Buy Hannah's Music @ Amazon
Hannah Fury Official Site
Hannah Fury Reviews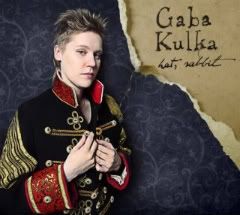 Gaba Kulka – Detuned Radio (mp3)*
Gaba Kulka – Coup d'etat (mp3)*
Gaba Kulka – Hat Meet Rabbit (mp3)*
I can't remember if it was 2000 or 2001, but sometime around then a mutual friend introduced me to Gabriela Kulka (now known as Gaba Kulka) on an old journaling site we used to frequent. Back then I thought of Gabriela much more as an online friend than as an artist, though she did share her pretty cover of Sting's "Russians" with me. In the years that followed, I had the privilege of learning through her of the joys and difficulties that go into the writing and recording process of an album. I saw how Gabriela struggled to balance her then "real job" with her artistic pursuits, and I've been so happy to see that music has since become her very successful "real job." In the decade I've known her, Gaba has gone from releasing her own CDs through DIY sites like mp3.com to performing with Amanda Palmer and becoming quite the rising star in Poland. And her impressive catalogue of music over the past decade has been prolific and genre-defying. "Detuned Radio" is one of the first songs of hers that I heard, from her now out of print Mp3.com demo King of Rats. "Coup d'etat" is from her second album Miss Scylla and a Hard Place. The last song is the frenetic title track from Gaba's latest release Hat, Rabbit (one of my Best of the Decade) and better represents the music she makes now. I'm happy to say you can now purchase her last two albums (which are also her best) on Amazon.
Buy Gaba's Music @ Amazon

Gaba Kulka Official Site
Gaba Kulka Reviews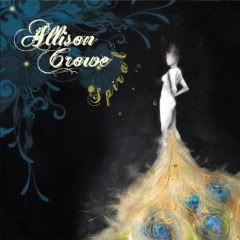 Allison Crowe – By Your Side (mp3)*
Allison Crowe – Independence Day (mp3)*
Allison Crowe – I Don't Know (mp3)*
As I've said before, I consider Allison Crowe to be Muruch's true musical mascot. A friend sent me Allison's cover of a Tori Amos song about five or six years ago and it was love at first listen. Back then, no one seemed to be writing about this Canadian wonder and over the years I've seen other bloggers credit this site as where they first heard her music. Allison has also consistently been supportive of mp3 blogs and file sharing in general, recognizing the value of this new form of "word of mouth" as the best way to spread music that doesn't get played on mainstream radio. She is still relatively unknown in the U.S., but her astounding cover of Leonard Cohen's "Hallelujah" has brought her international attention in recent years. Her extraordinarily emotive way of singing and the subtle beauty of her songs stand out from just about any other artist ever. I think Allison has inspired more writing on this site than anyone else, though she may be tied with Gaba Kulka on that. "By Your Side" and "Independence Day" are from her spectacular Live at Wood Hall album (another of my Best of the Decade), and "I Don't Know" is from her most recent release Spiral.
Buy Allison's Music @ Amazon

Allison Crowe Official Site
Allison Crowe Reviews
I want to thank Hannah Fury, Gaba Kulka, and Allison Crowe (also Allison's manager Adrian) for being so generous with their music. And a huge thanks to my host Song, By Toad, without whom this site would no longer exist. Also, thanks to all of the artists, labels, agents, PR companies, and everyone else who has supported this site over the years – especially all of you readers. Oh, and a special thanks to my oldest friend "Grasshopper" since most of the time I think she's the only one who actually reads my reviews.
Now, since I've spent the past 10 years rambling to you about music and sharing mp3s, I would love if everyone reading this would comment! Share how long you've been reading Muruch, how you first found it, any music you've liked, loved, and/or bought because of this site, and any other memories you have about it. But even if you just say hi, please comment just this once. And link to this post anywhere and everywhere. I'd like a big crowd to help me celebrate the decade I've devoted to this site and to the music I love.
*all mp3s hosted for 2 weeks w/ permission of each artist