If you watched this year's Grammy Awards, then you've already seen and heard Irish singer Imelda May. Imelda was the spitfire who sang the "How High The Moon" tribute to Les Paul with guitarist Jeff Beck. The Dublin native's album Love Tattoo features a similar retro rock-a-billy sound.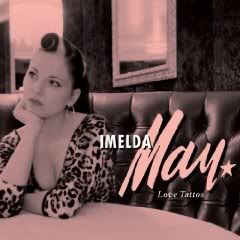 What sets Imelda apart from other rockabilly acts is her incorporation of traditional Irish and jazz instrumentation into her rocked out arrangements. Imelda herself plays bodhrán while her band members contribute trumpet, flugal horn, and piano.
The jazz influence is most apparent in the upbeat horns of "Feel Me" as well as Imelda's sultry vocals in the torch songs "Knock 123" and "Meet You at the Moon."
The real driving force behind the album is unquestionably Imelda's growl and those revved up guitars – such as in the sizzling opener "Johnny Got a Boom Boom," "Big Bad Handsome Man," "Smotherin' Me," and especially the wailing chorus of "Smokers' Song."
Imelda wrote every song on the album except the traditional "Wild About My Lovin'" and "It's Your Voodoo Working." Both covers are fun, but it's originals that stand out most.
Love Tattoo ends with a bang thanks to the hyperactive Latin horns and punk attitude of "Watcha Gonna Do."
I was not granted permission to share an mp3, but you can hear samples at the links below.
Buy @ Amazon
Imelda May Official Site
Imelda May MySpace