Forget The Storm is singer-songwriter (and actor) Tyler Hilton's third studio album and his first independent release on his own label, Hooptie Tune Records. Tyler himself said of the album, "The songs and sounds of Forget The Storm came together as a reaction to the major label system and the heartbreak it kept putting me through." That heartbreak came after five years of working on another album (The Storms We Share) for major label Warner Bros. only for the songs to gather dust. Tyler left the label when it became obvious the album would never see the light of day and started on a fresh batch of songs, the title Forget The Storm the only reference to the album that never was.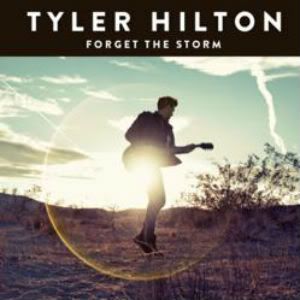 Tyler's appearances on the final season of One Tree Hill successfully drew my attention to his new album, Forget The Storm. Unfortunately, Chris Keller's (Tyler's OTH alter ego) heartfelt acoustic performance of "Prince of Nothing Charming" and rowdy bluesy rock rendition of "Loaded Gun" led to disappointment when I first heard the more polished pop versions on the album.
Once those overblown expectations faded, though, I was able to enjoy and appreciate the album for what it is. It's a very catchy pop album with a few pretty ballads and a couple of strong rock tracks.
Tyler is best known for laidback, singer-songwriter ballads and this album has it's share of those, but the best tracks are those in which he fully embraces blues and rock – such as "Loaded Gun" and "Ain't No Fooling Me."
There's a dusky warmth to Tyler's voice and melodies that occasionally hint at early Ryan Adams, but the slick production pushes most of Forget The Storm into the pop genre. It'll be a good summer road trip album.
Find more music like this on Tyler Hilton Official
Buy @ Amazon
(not yet available)
Tyler Hilton Official Site (Buy CD)