She & Him's Volume 3 was one of my most anticipated albums of the year. Regular readers know I'm a big fan of She & Him's first two albums and have loved Zooey Deschanel's voice since her Elf
days. So it's with a heavy heart that I must give Volume 3 a less than positive review.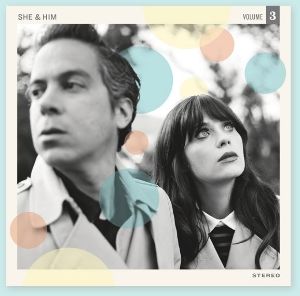 I tried, really I did. I've played the album on repeat for weeks and told myself I was being overly cynical. I took it on sunny day drives and endeavored to just enjoy the music without thinking about this review. But every single time I play it, the first half of the album just annoys me.
Zooey's voice is still very pretty and M Ward's instrumentation is lush as always, but the problems lies in the lyrical structure of certain tracks.
The opener "I've Got Your Number, Son" isn't terrible, but I always hit skip half way through tracks 2 through 4 due to their repetitive nature. "Never Wanted Your Love" and "I Could've Been Your Girl" were ok as singles, but I find them extremely irksome in the context of the album – where they are lumped together with the gooey "Baby." It feels like a paint-by-numbers approach to songwriting – write one verse and one chorus, then put 'em on a loop for the duration of the track. Rinse and repeat for the next four songs. Honestly, after hearing One Mile An Hour's beautiful, thoughtful debut, Volume 3's shallow construct sadly reminded me of the South Park episode in which manatees randomly cobble together Family Guy shows.
But perhaps that's overly harsh for what's obviously meant to be a light bit o' pop. The new dance party video for "I Could've Been Your Girl," which you can watch below, is cute at least.
The second half of the album is a completely different story and emphasizes why I dislike the beginning so much. When She & Him are good, they are really, really good. The album's strength lies in the lower key melodies, which showcase both the lovely depth of Zooey's voice and the intricacies of Ward's playing.
The pretty piano ballad "London" is by far the standout track.
I also adore "Turn to White," which features the heart-punch lyric "I'm stronger than the picture that you took before you left."
Other highlights are the cover of "Hold Me, Thrill Me, Kiss Me" and "Snow Queen."
So I at least recommend buying those four mp3s. I just don't see myself listening to the entire Volume 3 album as much as I have its spectacular predecessors – particularly Volume Two, which has become my default road trip CD.