As a longtime (17 years and counting) Heather Nova fan, I expected to at least enjoy her new and eighth studio album, 300 Days at Sea. Especially after hearing the song "Save a Little Piece of Tomorrow," which I first posted back in March. But after fully immersing myself in the album to the point of now singing along with these sparkling fresh songs, I've fallen in love with the album almost as intensely as Oyster
(recently selected for Muruch's Classic Albums Appreciation Club) and Siren
. Recorded in Heather's home on a small rocky island using only solar power, 300 Days at Sea reunites Heather with the original musicians and production team of those early albums.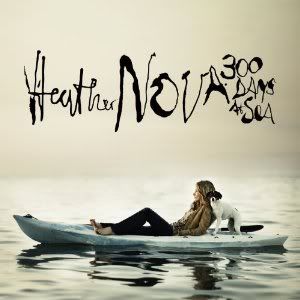 Inspired by the wreck of the yacht Moon, Heather's childhood home, on the reefs of Bermuda, 300 Days At Sea is full of oceanic imagery and seafaring metaphors. The atmospheric, anticipatory slow rise of the opener's ("Beautiful Ride") eventually soaring pop melody is indicative of the entire album's feeling of ascension and grace.
Sprawling piano accompanies Heather's radiant, husky vocals in the verses of "Higher Ground," bursting into a memorable chorus that captures the radio friendly elegance of Surfacing
-era Sarah McLachlan. The song is a tribute to those rescued by a relief organization after the 2004 Indonesia tsunami.
"Stop The Fire" quickens the tempo and churns the guitars with intermittent dramatic pauses, while Heather's distant howls of "Fire!" subtly echo Oyster's "Throwing Fire at the Sun."
"Do Something That Scares You" is really the only track I'm still uncertain of. As I've written here before, I usually find the singer-songwriter speak-sing gimmick irksome. However, Heather's melodic execution of her spoken word poetry combined with the song's swaying sonic waves hint at Patti Smith's softer side. So, though my prejudice against the style prevents me from fully embracing the song, it is well done for what it is.
It's the exquisite, unabashedly sentimental ballad "The Good Ship Moon" and the "Into The Mystic" vibe of "Turn The Compass Round" – both odes to Heather's lost home – that are my personal favorite moments and are truly the heart of this extraordinary album.
Heather's unusually gorgeous voice has always been the driving force in her songs, but her intricate layering of high energy pop-rock instrumentation with haunting folk melodies continues to put her music into a category of its own. 300 Days at Sea is sure to be on my best of the year list come December.
BUY @ AMAZON