Listening to Goodnight Texas' brilliant forthcoming debut, A Long Life of Living, for the first time was much like when I first heard The Felice Brothers' debut. I kept thinking: who is this band and how can anyone make an entire album of music this good? Song after song, I would think I'd heard the best of the album only to be even more amazed by the next track. This is music for any band to aspire to and for any music fan to get very excited about.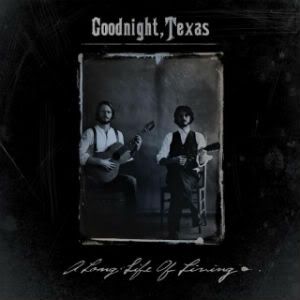 I worked in her fields and under her trees
I picked all her cotton, it stung me like bees
I shoveled her dirt when no one else would
I gave her way more than I ever should
And I'm still here with nothing whatsoever
But I'm going to work on Maggie's Farm forever
Goodnight Texas are San Francisco's Avi Vinocur (formerly of The Stone Foxes) and North Carolina's Patrick Dyer Wolf. They call A Long Life of Living their "transcontinental garage Appalachian collaboration." Whatever genre label you slap on it, this is storytelling at its finest.
The opener "I'm Going to Work on Maggie's Farm Forever" is an exquisite, lush, classic country-influenced folk song. It sounds like Springsteen covering Simon & Garfunkel, it's that good. You can watch the song's video below.
"Submarine" is a fiery, hard plucked acoustic ballad.
"Old St. John" is pure, deliciously eerie folk. The song exposes the hypocrisy of a so-called holy man with it's foreboding refrain "haven't you ever been lied to?"
"Jesse Got Trapped in a Coal Mine" is a haunting, mesmeric Appalachian folk narrative set in a West Virginian coal mine. If the lyric "my love is somewhere in that mountain" doesn't break your heart, I question whether you really have one. You can download this gorgeous song by entering your email address below or simply stream it.
Just when you think it can't get any better, "The Railroad" rumbles in on a freight train of bluesy guitar, clap-and-stomp percussion and chilling chain gang harmony.
A Long Life of Living will be released on October 2nd and is sure to be on my best of the year list in December.
Buy @ Amazon
(Available in October)