The Paper Raincoat is a project led by singer-pianist Amber Rubarth and multi-instrumental wizard Alex Wong, who accompanied
Vienna Teng
on her recent
Mountain Stage performance
. The two share vocal duties on their four-song
Safe in the Sound
EP while Wong plays guitars, percussion, glockenspiel, and synths. A backing band of musicians provide the duo a full-bodied orchestral sound.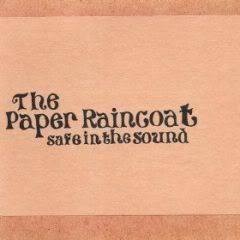 The songs reside in the same NYC fantasy world that centers on the fictional character Grace as she looks back on her life during her 50th birthday celebration. Grace soon returns to her childhood home to settle her recently departed inventor father's estate. In doing so, she discovers her father's plans for a paper raincoat. It was the failure of said invention that resulted in Grace's estrangement from her father and the abandonment of her artistic dreams. Finding her father's sketches reawakens Grace's longing to writer and she begins a novel called The Paper Raincoat.
A standard flight attendant announcement introduces "Sympathetic Vibrations", which is a peppy indie-pop ode to travel replete with happy handclaps and warm hums. And the finale "Safe in the Sound" is a charming, tinkling duet.
The stand out track is "Brooklyn Blurs", a pretty ballad that captures the mood of a romantic New York night. Alex performed the tune during Vienna's set at Mountain Stage, and his studio recording is just as lovely.
The Paper Raincoat – Brooklyn Blurs (mp3 expired)
Buy Mp3s @ Amazon