Canadian singer-songwriter Sarah Slean has long been a favorite of mine and I'm happy to say her ambitious new double album, Land & Sea, is her best work to date. The two-disc set is grand in scope and beautifully complex, yet one of the most irresistibly accessible collections I've ever heard. This magnificent new song cycle finds Sarah taking pop, folk, rock and classical to places they've never been before.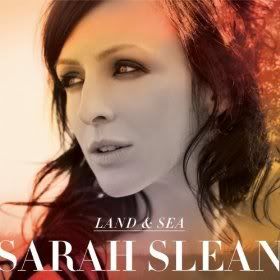 There's more wisdom in the iris bud
than all our centuries of words
see as the flower opens
what is there to say?
The collection of songs on the first disc, Land, are pop-driven, but Sarah incorporated elements and instrumentation from several other genres to add strength and substance.
Despite its title and choral embellishments, "Amen" is somewhat of a love song…in the sense of longing to be accepted and loved just as you are. A standout track on the album, the melody is anchored by a down-tempo beat in the verses and soars with a timeless pop chorus.
The sprawling piano melody "I Am a Light" rises and falls with the gentle waves of Sarah's voice.
"The Day We Saved the World" and "Set It Free" make for a buoyant, inspirational pairing, while "Everybody's on TV," "Girls Hating Girls" and "Society Song" take clever jabs at the vapid and backbiting nature of the modern era.
"Society Song" is a supercatchy pop number carried by Gospel-influenced handclap percussion.
The second disc, Sea, is a much softer, somewhat somber affair. The influence of Sarah's classical training, past collaborations with various composers and affinity for poetry, symphonies and Broadway musicals are all evident in the lovely orchestral arrangements of the songs. I was impressed to read Sarah did most of the string arrangements on herself.
The cinematic instrumental intro to "Cosmic Ballet" is especially beautiful.
The haunting, gorgeous "Napoleon" and the sweet melancholia of "Attention Archers" are the stand outs on Sea.
The lyrics of the delicate ballads "The One True Love" and "The Right Words," which gives Sea its title, are poetic and moving.
Sarah Slean's Land & Sea is sure to be on my best of the year list come December.
Sarah Slean – Amen by muruch *
*100% legal Soundcloud stream, uploaded w/ permission of artist's PR rep
Buy CD @ Amazon
Buy Mp3s @ Amazon
Buy @ Amazon.ca