We'll Never Turn Back
is what music should be. Gut-wrenching blues, earth shaking beats, hip swaying rhythms, deeply moving lyrics, and a rich voice that defies description. Produced by Ry Cooder and featuring guest vocals by original members of The Freedom Singers and Ladysmith Black Mambazo, the April 27th release from the legendary Mavis Staples is a collection of modernized Delta-blues and spirituals both old and new. Inspired by the civil rights movement of the 1960s as well as the Hurricane Katrina disaster, police shootings, and celebrity racial slurs of this decade, Staples effortlessly blends the emotional, inspirational, and intelligent lyrics of past revolutions with contemporary dance beats to create a intoxicatingly powerful force. And her voice has not lost one ounce of its incomparable potency.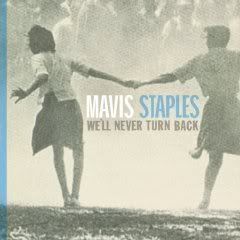 "Down In Mississippi" and "In The Mississippi River" set the album on fire with deep Southern Gospel thumps, bluesy guitar riffs, and funky dance grooves beneath Ladysmith Black Mambazo's melodic choir and the bottomless growl of Mavis Staples.
"Eyes On The Prize", "We Shall Not Be Moved", "On My Way", "Turn Me Around", and "Jesus Is On The Main Line" are traditional songs given a modern spin by Staples and Cooder. "This Little Light Of Mine" and "99 And 1/2" are also traditional songs that the pair augmented with new lyrical rants and pumped up musical arrangements.
"My Own Eyes" is a Staples original inspired by the singer's own life experiences – such as being unjustly jailed by "Southern racist cops" in the Civil Rights era – and the world around her today, particularly in New Orleans.
Producer Ry Cooder hit the mark when he called these songs "physical music". The music on We'll Never Turn Back is so alive and full of passion it's almost tangible enough to grasp in a clenched fist. These are not background songs for other activities. This is music to give your full attention to, to immerse yourself in, to get lost in, to get high on. This is not only what music should be, it's what all music lovers should be talking about.
Mavis Staples Official Site
Anti-Records
Buy the CD