Put Your Loving Arms All Around Me is the latest release by Bare Bones, an acapella trio based in Charleston, WV. The songs range from traditional folk and gospel to blues and doo wop. The entire album is sung acapella by the three members of Bare Bones: Becky Kimmons, her husband Bill Kimmons and Mark Davis (formerly Crazy Jane's drummer and an occasional performer with the VooDoo Katz). It's a refreshingly old-fashioned collection, free of artifice and featuring some truly dazzling harmonies.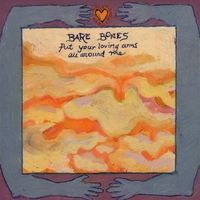 I'd heard of local band Bare Bones for a while, but hadn't actually heard them until a few weeks ago. The trio sang the traditional folk song "All I Want is You" on stage accompanied by dancers from The River City Youth Ballet as part of the RCYB's recent "Music in Motion" performance. Bare Bones sounded so good, I kept forgetting to watch the dancers. I was disappointed the song isn't included on their album, but there's plenty of other great tracks to make up for it.
At times the three singers' voices merrily dance with and around each other like a barbershop quartet, most notably in their cover of Smokey Robinson's "You Really Got a Hold On Me."
I'm not personally keen on the many old school gospel numbers they cover, with the exception of "Blind Bartimus," but I'm sure they will appeal to a lot of folk and gospel fans. It's just that a little of that goes a long way with me.
The standout tracks find lead singer, Becky Kimmons, singing solo – such as the haunting ballad "Old Virginia" and jaunty "I Loved a Roving Gambler."
Bare Bones – You Really Got a Hold on Me (mp3 clip)*
*mp3 clip hosted by band
Bare Bones Official Site
Bare Bones MySpace