Eroica is a BBC film that depicts the first public performance of Beethoven's Third Symphony, which is credited with having ushered in the Romantic Era of classical music. Ian Hart stars as the temperamental and brilliant composer.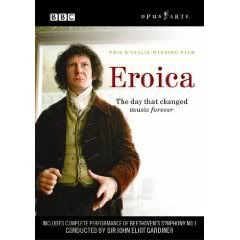 The film presents Beethoven's Third Symphony in its entirety, showing the individual responses (each intense in their own way) of various people who made up that first audience…from the royalty walking around the orchestra to the servants hearing the music through the walls.
The actors did a fine job of portraying the most subtle expression of reaction and the direction artfully blends these human palattes of music-evoked emotion with the musicians struggling to play the brilliant "monster" of a symphony.
Buy @ Amazon