Irish band Bell X1 recently released their new album, Bloodless Coup. I've been loving the new song set, which turns the band's signature blend electro-pop and rock up a notch.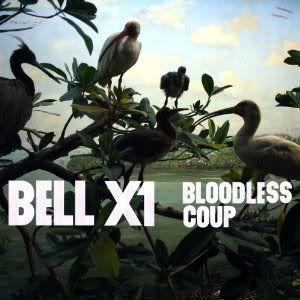 Bell X1 first shared a stream of the opening track, "Hey Anna Lena," back in January and I'm happy to say it's the weakest track on this excellent release.
"Velcro" is an atmospheric ballad of love in modern era that is both wistfully romantic and sensual.
"Sugar high" layers a perfect mesh of electronic skips, blips and beats and rock instrumentation over a surging pop melody. It's the kind of song that leaves me in awe, wondering how the band chose just the right combination of sounds in the arrangement.
"Built to last" is a quieter, gentler acoustic moment, while "4 Minute Mile" is the kind of exhilarating, clever electro-pop number that makes me think Bell X1 may be the successor to Talking Heads.
Hey Anna Lena by Bell X1
Note: This is a 100% Legal SoundCloud Stream Uploaded by & Posted w/ Permission of Bell X1
BUY @ AMAZON